There is an indomitable spirit that's shared by all who travel on our 2021 journeys in North America, whether it's the outdoor adventure shared in the amazing national parks of America's West or beautiful Alaska, learning a new skill or craft on journey in the East, or revisiting somewhere you've been before – and seeing it through new eyes.
Yellowstone & Grand Teton National Parks

Traveling in 2021 brings some new Health and Safety protocols for Tauck – and this just in from Tauck Director Halsey Kinne confirms their importance this year to our return to travel:
"The return to travel has been a wild ride, but Tauck has worked with our travel partners to ensure that safety is our top priority. The Tauck Travel Pledge signed by our partners, our tour directors, and our guests reinforces that we are in this together. Even COVID could not shake off our travel spirits!"
Cowboy Country

This was shared by guest Dusty Rogers: "Our "Cowboy Country" Tauck vacation was truly unforgettable. We didn't just visit these places or look at these places, we experienced these places. When it rained we were happy for the Wyoming ranchers because we now knew how precious rain was for them. When we visited authentic dude ranches and learned the story of Johnson County we felt both their pain and their pride. We looked in awe at wonders like Yellowstone National Park, Mount Rushmore, and the Crazy Horse Memorial because we had the opportunity to learn so much more about them through videos and our tour director on the coach while en route.
We were able to see, do, and learn more in one day on our Tauck trip than we've done on our self-planned vacations in one week. And then we did it again and again for seven days in a row. And the best part was, our days were full, but not exhausting. It's incredible how much you can accomplish in one day thanks to everything being pre-planned and executed so flawlessly by Tauck! Each day there was still opportunities for rest, relaxation, or going off and doing things with just your family. Tauck's flawless planning and execution also helped us remain and feel safe traveling during this time with things like COVID testing prior to our tour departing and spaced seating on the coach.
My family cannot recommend Tauck tours highly enough. It's hard to find or plan a vacation that's enjoyable and interesting for both adults and kids but Tauck's family tours delivers. We are already planning our next one!" Dusty shares her adventures via her Instagram account, @allthingsgd

Cape Cod, the Islands & Newport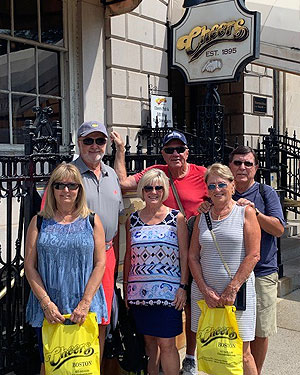 Jumping across country, Becky Kolb wrote to us from the road to share her enthusiasm while on a departure of Cape Cod, the Islands & Newport with Tauck Director Debbie Otto (we love this photo and seeing folks visiting the iconic Cheers sign in Boston again!):
"On the Cape Cod tour with Debbie who is AMAZING. This has been a great tour and she is so knowledgeable about the area and history. This is our secnd tour with you. Two years ago we traveled with Fernando in Portugal and Spain. We love your tours. Also – Evan our bus driver is fantastic!!!!"
Alaska
Our longtime travel partner Howard Carbone, owner of Alaska Nature Guides, works closely with our journeys to Alaska, including Alaska: Call of the Wild. He gave one of our most fascinating insideTauck presentations a few months back that shared his passion for Alaska's amazing world of nature, from wildlife and their habitats to the 49th state's diverse ecosystems and landscapes. He sent this note along with photos from some of the scavenger hunts he's conducted on recent Alaska: Call of the Wild departures:
"Greetings from beautiful Talkeetna, Alaska! I want to report that we are having a blast with the guests and our all-star crew of fantastic guides. Survival Night, the culmination of our time together, has been full of laughter, fun, and positive energy. Everyone is full of joy and amazement when we reveal the winning photos from our Photo Scavenger Hunt, their forever keepsakes of family moments captured and memories made. I wanted to share with you the photos from Monday's trip so you can see how much fun we're all having up here. Thank you again for working with local family businesses like ours, something that sets the Tauck experience above the rest."
Howard earned his Master's Degree in Biology in Michigan before moving to Alaska in 1992 where he worked as a naturalist and educator in Denali for twelve years – and climbed to Denali's 20,310-foot summit. Howard met his wife Noelle in Denali National Park where they both worked as Rangers; Noelle has a degree in education, and worked for over ten years as a naturalist interpreter and backcountry ranger in Denali National Park. They started Alaska Nature Guides to give visitors an opportunity to experience and connect with Alaska's natural world in the company of great naturalist guides.
А, вот рассматривать вариант быстрого кредита – микрозайм, в качестве выхода, то ситуация становится не такой печальной.
Лучшим выходом для получения микрозайма будет оформление заявки
здесь
, на нашем сайте лучшие варианты кредитования онлайн.