The success of this trip and feedback from guests like Stan convinced us that we "could do this!"  It led to the opening of more tours in North America and by June, we were running all of our tours in the continental USA.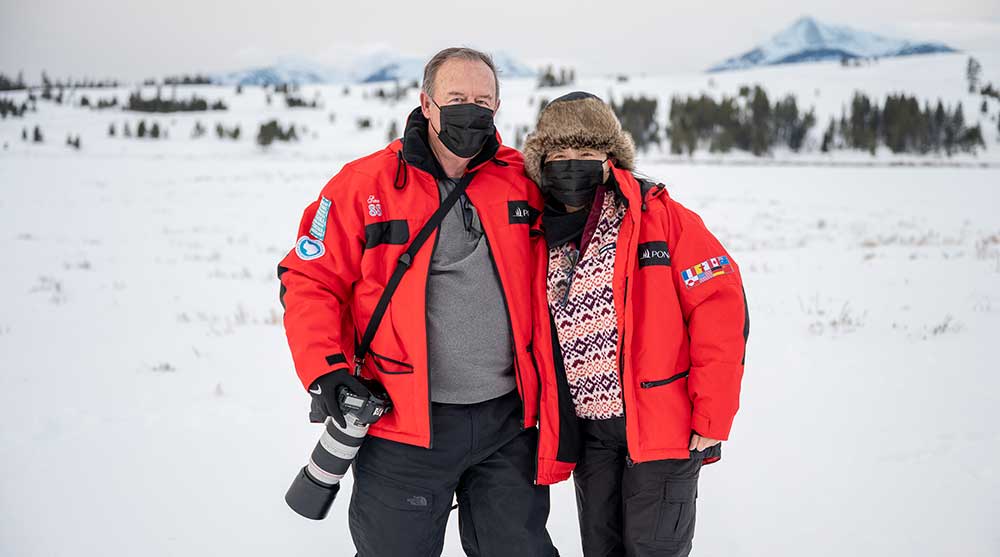 Stan Speth and Nancy Chik, Yellowstone National Park
Picture perfect for our first adventure out into the world again, our guests really warmed up to Wonderland: Yellowstone in Winter in spite of the cold temperatures they faced. Average daily highs in Yellowstone National Park in January hover in the 20s but that didn't stop long-time Tauck traveler Stan Speth from venturing out on this wilderness adventure with us.
"As you know, all the States reacted differently to COVID and where we live in California things were locked up pretty tight. While we certainly missed life's little things like eating inside restaurants, get-togethers with friends, etc., the one thing we really missed was traveling, especially to places that emphasize nature and outdoor settings. This has been our biggest joy in retirement.
When we saw that Tauck was planning a trip to Yellowstone in winter, we jumped at the chance, as it has always been a bucket-list trip for us. I hate to sound like an "Allstate" commercial but we have traveled with Tauck enough to know you are in good hands, and we felt very certain that if anybody could put together a safe, and exciting trip it would be Tauck. And the Team hit it out of the park!"
Stan and Nancy have traveled from Africa to Antarctica with Tauck, but according to Stan, "nothing has compared to seeing the park in Winter. Watching herds of Bison or Elk trek through the snow-covered valleys, and seeing frozen waterfalls among the park's thermal features is truly breathtaking. And seeing all of this when the usual crowd of tourists was practically non-existent was an extra special bonus. We would like to thank the Tauck Team for all the hard work, effort, and attention to detail that went into creating an exciting and safe adventure amid all of the 'COVID Craziness.' It was really what the doctor ordered. The memories will last a lifetime."

A storied history
Dayton Duncan and Ken Burns helped us create Wonderland: Yellowstone in Winter, sharing insights and stories about the park that make this trip more fascinating still. Listen in as Dayton tells the tale of the park's first winter traveler and how his exploits led to the creation of America's first national park.
Если не нужен кредит в миллион рублей, а нужены просто 10-15 тысяч до зарплаты,
то займ всегда будет выходом.
До 100 000 рублей в виде онлайн займа на ресурсе
credit-n.ru
без залога и поручителей, на карту онлайн.