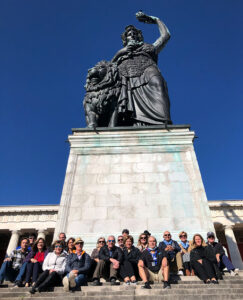 As travel specialists, we have learned to expect the unexpected. This year, with a spate of last-minute closings impacting our well-made plans, that philosophy was certainly put to the test. But true to form, our amazing Tauck Directors were able to make magic no matter the obstacles that came their way.
On Autumn Along the Rhine: Munich's Oktoberfest, it meant rerouting our guests to Germany due to unavoidable COVID-restrictions in Amsterdam and pulling out all the stops for impromptu Oktoberfest celebrations for our guests when the real event was canceled by the German government.
Because we were not able to visit Amsterdam as originally scheduled, we arranged an overnight stay at the world-class Breidenbacher Hof hotel in Dusseldorf when our guests arrived for their Oktoberfest cruise. Cruise Director Tea Clougher took on the work of three people on the final day of the previous tour so that Tauck Directors Michael Soncina and Iris Erlemeier-Gerald could get to Dusseldorf early to meet the guests on their re-routed departure.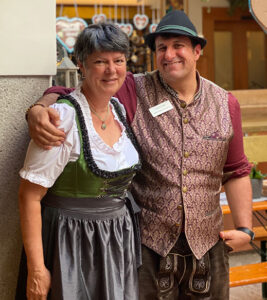 To get our guests in the mood for the fall fun on tap in Germany, our Tauck Directors Iris and Michael liaised with a host of suppliers in Dusseldorf and Munich to add in new Oktoberfest-related experiences. They arranged visits to authentic bier houses and microbreweries in the villages and towns they visited, taking our guests to places where the locals, not the crowds, go! Our guests also enjoyed an experience not normally included on this cruise, a special open-air beer pairing lunch at Schloss Ehreshoven, a grand manor house surrounded by gardens and a castle park.
The main event took place at the historic Hotel Bayerischer Hof in Munich, in one of its oldest event rooms, where the river cruise team pulled off an exclusive Tauck party that had everyone cheering – and beering.
Oktoberfest was born in Munich some 211 years ago as a celebration of a royal marriage between Prince Ludwig (later King Ludwig 1) of Bavaria to Princess Therese of Saxony. There weren't any beer tents back then, but there was a huge horse race that got the action going. It was so much fun that festivals were organized every year since, when possible, with beer tents drawing growing crowds in the decades that followed. It is said "once an Oktoberfest goer, always an Oktoberfest goer" and one rule still applies in the beer tents at Oktoberfest: the customer is king.
With that in mind, our river cruise team rounded up an assortment of Oktoberfest ware – dirndls for the ladies, lederhosen for the men – had traditional Tauck heart cookies custom made for the occasion, brought in steins and Lowenbrau beer from one of the top breweries in Munich, served an Oktoberfest-inspired menu of pretzels, sausages, cheese and more and invited our guests to dance the night away to the live music of a 3-person Oompah band.
Tauck Director Michael shared that our guests thoroughly enjoyed all the experiences we created just for them, with one of their favorite highlights being their private bus ride from Basel to Munich, where they had their first taste of Bavarian beer – 2 bottles each – sang traditional songs and enjoyed the camaraderie that turned this small group of travelers into immediate friends.

А, вот рассматривать вариант быстрого кредита – микрозайм, в качестве выхода, то ситуация становится не такой печальной.
Уверен, что в деле получения займ все ориентируются на сарафанное радио, а не на рекламу кредитов.
До 100 000 рублей в виде онлайн займа на ресурсе
credit-n.ru
без залога и поручителей, на карту онлайн.