There's no denying that this is a summer unlike any other. Traditionally, it's a time for family, a season defined by time spent outdoors in the sunshine, picnics and barbecues, ice cream, beaches, long walks and vacations. This year is different – but all of the aspirations that arrive with the official start of summer are still here. Around the world, the traditions of summer will be celebrated differently. The memories we create this summer of 2020 will be different than those in years past – but the truth be told, every summer is unlike the one before and generates its own memories. We take a look at a few summertime inspirations – and introduce you to a new series from our travel partner Carolyn Robb – "Travel Journal of a Royal Chef."


Tauck Director Sofia Keck was born and raised in Guatemala and today lives in the US. In the course of her career, she has truly traveled the world – from Europe and North America, to French Polynesia and several parts of South America. Sofia began her career with Tauck in 2013 as an Art Lecturer; she uses her language skills in Spanish, French, English, and Italian, along with her passion for art and cultural heritage, to guide tours across the globe.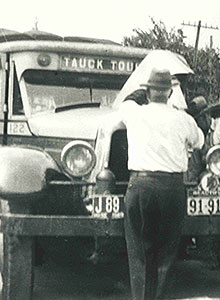 Our Chairman, Arthur Tauck Jr., shared a story with us about a special place in New Hampshire, first visited in 1927, that became a guest favorite. "About 10 years ago, I dropped by Cannell's Maple Shop (Cannell's Country Store) in Intervale, New Hampshire, to say hello and see if any of the Cannells were still running it. It had become a perennial stop on our New England tour sfrom 1927 to well into the 2000s. As a Tauck Director, I took groups there weekly, and Ray and Lidia would bustle about… Ray introducing his maple products and Lidia running the cash register and giving local advice to our guests for whatever they needed. Why such loyalty for just shy of 100 years?
Back in 1927, a Tauck New England tour bus had a flat in Intervale (New Hampshire) as it was passing through, and it destroyed the tire. Young Ray Cannell left his porch to see if he could help – but there was no way that the tire was going to be repaired locally. Ray's first move was to summon neighbors to rally round with their cars and transport the guests to their overnight hotel, The Crawford House in Crawford Notch, 20 or so miles north. That done, Ray took off for Boston with the tire in his pickup truck. He had it repaired, or replaced, during the night and returned to Intervale in the wee hours of the next morning. Both he and the driver, who slept in Ray's house that night, put it back on the bus in time to greet the guests at the Crawford House to begin their next day's journey.
My father never forgot that. It became the legacy behind a relationship steeped in loyalty, that passed through generations of the Cannell and Tauck families. When I stopped by the store, I walked in and asked, "Are there any Cannells still around running this place?" The answer came from a guy in the back, "Yeah, I'm a Canell." I asked, "What relation to Ray and Lidia?" and his reply was "Grandson." I no sooner said "Well, my name is Arthur Tauck…" than he replied "Really? We have been saving this for you." At which point he reached under the counter and handed me the photograph you see here – taken that day in 1927, including the Tauck driver, Ray Cannell, one of our guests, and the vehicle. It is now, appropriately, a part of our company archives."
Arthur


There is something about the Canadian Rockies that soothes and re-energizes unlike any other destination in the world. Maybe it's the vivid contrast of the mountain peaks and the forests below, where true tranquility is experienced in the solitude of nature. Or the stunning beauty of the lakes and rivers – they are powerful tonics. Join us in the heart of the Canadian Rockies for a few moments of serenity.


An important part of summer is the timed shared with every generation of your family – and we couldn't think of any better way to celebrate the start of summer than by taking a look back at some of the many different ways family fun is created on a Tauck Bridges family journey. In addition, we've curated a collection of "Summer Traditions" around the world – from videos on the many different ways to celebrate the Midsummer Solstice to a BBC podcast on "A Midsummer Night's Dream" to film suggestions. You can find both the Tauck Bridges video and our collection of Summer Traditions here.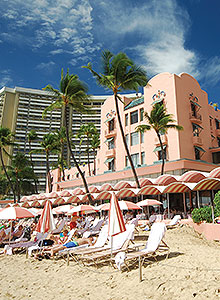 When you visit Hawaii, you get the feeling it's summertime year round… One of our oldest partners in Hawaii is the fabulous "Pink Palace of the Pacific," The Royal Hawaiian on Waikiki Beach. We could think of no better cocktail to celebrate the arrival of summer than the Mai Tai – and The Royal Hawaiian shares the following story and recipe for the "Original Mai Tai." The original Mai Tai cocktail was created by "Trader Vic" Bergeron in 1944 and brought to Hawaii in 1953, where it was first served at The Royal Hawaiian Hotel. Many have tried to improve on this recipe, which stands as the most revered and enjoyed of all Hawaii cocktails. Today, it is the signature cocktail at the hotel's oceanfront Mai Tai Bar. The ideal setting, just steps away from Waikiki Beach, it provides the perfect atmosphere to sip exotic handcrafted cocktails with views of Diamond Head and the Pacific Ocean just beyond.
Recipe
Build in shaker with ice:
1 oz. Bacardi Rum
1 tsp. Cherry Vanilla Puree
1.2 oz. Amaretto Disaronno
1.2 oz. Cointreau
1 oz. Fresh Orange Juice
2 oz. Fresh Pineapple Juice
½ oz. Whaler's Dark Rum Float
Roll the shaker, pour in a large "bucket" glass. Float with Whaler's Dark Rum, garnish with a parasol with cherry, pineapple and lime wedge.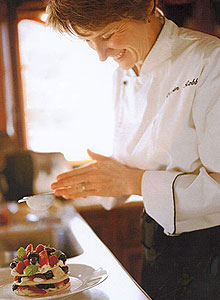 Travel Journal of a Royal Chef
Carolyn Robb
INTRODUCTION:
Travel and adventure have always been a huge a part of my life and, I feel, are in my genetic make-up! I grew up in South Africa. My father was a Capetonian and my mother was an English rose from the home counties. In 1947, when life was still very bleak in the UK after so many years of war, my mother set off for Africa. She travelled on a flying boat and three days later after several stops, she reached Harare in Zimbabwe. Further exploration led her to Malawi where she met my father, who was working there at the time. An expedition like this, undertaken some 70 years ago by a young girl on her own demonstrates considerable spirit of adventure, some of which I would like to think I have inherited!
After completing my time at university, in South Africa, I headed for the Swiss Alps, with just my backpack and my newly acquired French and German skills. I spent a ski season working hard in wonderful family-owned hotel in Murren. My next port of call was a fabulous culinary school in Surrey, UK from which I graduated as top student and with my diploma in Cordon Blue Cookery. My career as a chef got off to an extraordinary start, at Kensington Palace. At the age of 21, I took up the position of chef to TRH The Duke and Duchess of Gloucester and their 3 young children; a fantastic family to cook for. This time was also a brilliant introduction to the etiquette and many protocols of working in the Royal Household. Two years later I joined the TRH The Prince and Princess of Wales and the young princes William and Harry, where I remained for a further 11 years.
Travel was an integral part of everyday life in the royal household, travelling between residences within the UK as well as overseas. The family had limited opportunities for private holidays, but those that I undertook with them, hold a very special place in my heart. Each year there were at least two official overseas state visits. These usually lasted between 10 days and 2 weeks and would incorporate visits to 3 or 4 countries. The tour party ranged in size from just a handful of people up to about twenty, depending on Their Royal Highnesses' itinerary, the length of the tour and the destination. Being a part of a royal tour was an incredible experience. The attention to detail that went into the planning and running of an overseas state visit was second to none and being a member of the tour party was akin to being a part of a very well-oiled machine. Behind the scenes, things were not always easy but I loved the challenge of recreating 'home-cooked' meals wherever in the world we were.
I cooked in palaces, castles, embassies, high commissioner's residences, presidential residences, hotels and private homes as well as on boats, trains and aeroplanes. Sometimes the kitchens were fantastic, but frequently they were surprisingly basic. One that I remember fondly, in Bhutan, had no running water or electricity and I used a camping stove to cook on! Being a chef on tour called for plentiful supplies of resourcefulness, flexibility and good humour but it was an enormous privilege and I have an abundance of tales to tell.
Over the coming weeks I look forward to sharing some of my favourite memories with you. These include: cooking on HMY Britannia in Hong Kong in 1993 at the historic handover, returning to Southern Africa and seeing my homeland through the eyes of a royal tour, the culinary adventures of a visit to the Royal Kingdom of Bhutan, the unexpected complications of a tour to Saudi Arabia and many more. I also look forward to sharing with you some very special recipes.
Процент мфо по микрозаймам через интернет, например
здесь
, составить ровно 1% от суммы кредита в день, а это очень много.
Сказать, что займы без отказа – это 100% правда, думаю, нельзя.
Ну, где-то тебе его дадут, а где-то заявка на кредит просто не пройдёт.