Throughout time, writers, artists, poets, and filmmakers have been fascinated by the animal life in the world we live in. From nature's smallest creatures to Africa's "Big Five," their daily lives provide inspiration for the storyteller in all of us. The animal kingdom is a world of wonder that can be both heartwarming and humorous, surprising and compelling – and is an important part of travel the world over.


Kathy Almy was born in Zimbabwe and has lived there all her life; she quite naturally takes great pride in showing off Victoria Falls and has spent significant time in neighboring countries Botswana and South Africa. She began working with the airlines in 1980, joined Tauck in 2013, and continually delights in introducing guests to the magic of Africa. She recently told us that one of the highlights of being a Tauck Director is "the excitement the guests feel as they get up close to the Big Five; my greatest joy is watching the faces of the guests when they see their first wild animal in their natural habitat, encountering something new."


Tim Martin, whose credits include 13 years as Executive Producer of the BBC Natural History Unit, provides an exclusive look at Costa Rica's wildlife – "…the best place in the world, I think, to get close to really spectacular tropical wildlife." Tim and the BBC produced documentary films in partnership with PBS, National Geographic, Discovery Channel, Animal Planet, BBC Worldwide and more – and we have been pleased to welcome him aboard select Tauck small ship cruises to share his expertise, stories and insights.


There is something about penguins that brings a smile to just about everyone. They are guileless, wide-eyed and interested in making friends with just about all of Earth's living creatures, including humans. A visit to Antarctica includes daily comic antics performed by different species of penguins, in the water or on the land, displaying confidence, intelligence, and an abundance of personality and charm.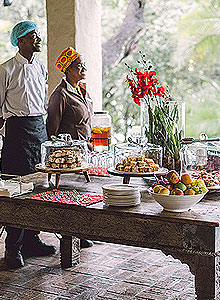 Chobe Game Lodge in Botswana, is an elegant, five-star, fully Ecotourism-certified safari lodge and the only property located inside the world-renowned Chobe National Park on the banks of the Chobe River. The Game Lodge staff share with guests their passion for the park, for environmentally responsible tourism, and for their sustainability initiatives and programs. From an electric fleet of vehicles and boats to supporting sustainable farms and community initiatives, they are continually working to ensure the long-term protection of Chobe National Park. And they've shared one more thing with us – their delicious recipe for Apple Cinnamon Cake.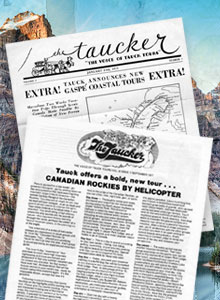 We are so pleased to introduce you to The Taucker, where you'll find the rich content of The Compass newsletter, special presentations by our insideTauck team of experts, stories from our resident reporter A. Colin Treadwell, the Porchlight personal messages from CEO Dan Mahar, blog postings, and more, all in one place at tauck.com. We could think of no better homage to our heritage than by giving this new Tauck collection of content the name of the original Taucker, circa the 1930s. We wish you a world of happy exploring!
Срочные займы на карту без залога и поручителей
по ссылке
доступны для круглосуточно для всех категорий населения.
Сказать, что займы без отказа – это 100% правда, думаю, нельзя. Ну, где-то тебе его дадут, а где-то заявка на кредит просто не пройдёт.