The Douro winds for 557 miles from the Sierra de Urbion mountains in Spain and across Portugal to the Atlantic Ocean, through some of the most picturesque wine country in the world. At its source the river is wide, then narrows as it enters Portugal, concentrating the force of all that water through plunging valleys, twisty narrow straits, and rocky gorges. The river is tame now, but before dams and excavations, it was swift and unforgiving, and it took a special boat and a brave heart to navigate it – blending together rich traditions of legends and storytelling.
Those storytelling traditions include what's behind the name of our newest riverboat, ms Andorhina. Swallows (andorinhas) have a special place in Portuguese culture. Migratory birds, small and graceful, they mate for life, and no matter how far they travel, they always return to the same nest. Andorinhas are romantic symbols of home, love, and faithfulness. In the 19th century Portuguese sailors often had swallows tattooed on their arms for good luck, to insure their safe return home. The andorinha proved to be the inspiration of artists – and today you'll see andorinhas everywhere, in various sizes and colors, sometimes given as tokens of love, sometimes hung on walls and windows in shops, cafés, and homes, sometimes alone, and sometimes in flocks.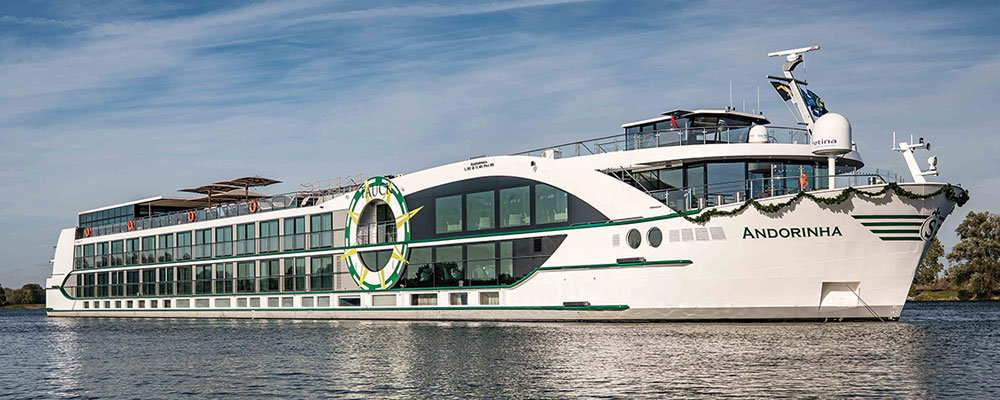 Designed for no more than 84 passengers, the focal point of ms Andorhina is the Sun Deck. Cruising the Douro is relaxing and rejuvenating; the wine region and terraced vineyard landscapes that line the shores are designated as a UNESCO World Heritage Site – and the ship's Sun Deck provides the perfect vantage point. There's no better way to enjoy the view than from a comfy lounger, with the opportunity to dip in the open-air plunge pool or enjoy a bite to eat or a drink from the Sun Deck bar and a uniquely designed restaurant we fondly named "Arthur's." The ship boasts twelve 300-sq.-ft. Tauck Suites and twenty 225-sq.-ft. cabins highlighted by French balconies and floor-to-ceiling windows and features beautiful Portuguese craftsmanship from local companies, found in various pieces of furniture and lighting fixtures. The color scheme, as well as patterns used in the artwork, carpets and fencing, are inspired by the typical decorative tiles which can be found throughout Portugal; lighting fixtures on board are custom-made, resembling "vines" found throughout the many vineyards along the Douro river. You'll find the design is very open, with an abundance of natural light pouring in from the multi-level atrium – and an evening dining in our signature Compass Rose restaurant is an evening well spent.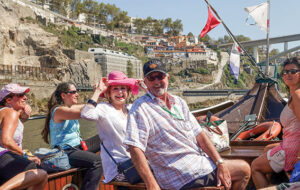 Winemaking has long been the principal industry of the Douro Valley as the climate and soil are inhospitable to most other kinds of farming. Centuries of viniculture have turned the mountains along the river into a mesmerizing landscape of stepped pyramids, which writer Miguel Torga called "a geological poem," sculpted by layer upon layer of stone terraces. What the gondola is to Venice, the bareo rabelo is to the Douro, specifically designed and equally elegant. For at least 500 years wine was shipped from the vineyards to Porto aboard rabelos, sleek, agile, flat-bottomed boats with a sail and a large rudder at the stern.
2021 marks the debut of three new river cruises along the Douro River in Portugal along with a new riverboat, the Andorinha. Villages and Vintages: Cruising the Douro River Valley travels the river, East and West, for eight days; Exploring the Douro, plus Lisbon & Madrid (12 days) bookends a Douro cruise with stays in two of the world's favorite cities; and our new family river cruise, Douro Discovery: A Family River Cruise in Portugal plus Madrid, brings 10 days of adventures and discoveries for every member of the family.
We've put together additional content – videos, podcasts, articles, playlists – for an in-depth look at Portuguese traditions, wine and cuisine, language, music and cultural legacies:
Exploring…
Могу ли оформить займ у вас
в режиме онлайн. Да, разумеется, все микрозаймы в нашей мфо оформляются и выдаются только онлайн.
Онлайн займы до 100 000 рублей можно получить
на сайте
в течение 15 минут с момента подачи заявки.