Italy and La Dolce Vita – The Good Life (or The Sweet Life)
For so many of us, the first thing that comes to mind about Italy is la dolce vita, something we gleaned from the movies we watched and the books we read. It's the idea of fully living daily life – and in this edition of The Compass, we introduce you to what makes Italy for us "the good life." A celebration of the art of living. From idyllic days under the Tuscan sun to centuries-old cities and seaside villages along the Amalfi Coast and remote Cinque Terre – to some of the world's favorite cities, Rome, Florence and Venice – to destinations off-the-beaten-track such as Puglia and Sicily – or the home of jetsetters such as Lake Como or the Isle of Capri – day-to-day life in Italy is truly la dolce vita.

Your Guide to Food and Wine in Italy

Video highlights of fabulous food and wine experiences
You can't think of la dolce vita in Italy without delving into the fabulous food and wine experiences – and we've put together a video collection of some of our favorite Tauck experiences throughout Italy along with podcasts on the history of Italian food, the apertivo and more. Throughout Europe, where you enjoy food and wine is a memorable part of your travel experience. Whether it's a castle, châteaux or palace – a family-owned farm, pub or local restaurant – authentic dining experiences create those moments that become stories shared for years to come. In Italy, they include:
Take a look at a Mt. Etna wine tour… share a lovely melodic welcome at Cumpa Cosimo Restaurant, our partners along the Amalfi Coast… discover a unique lunch and wine pairing in Torgiano… discover the secrets of mozzerella and limencello at Agriturismo Fondo Galatea… view families learning the art of making pizza at Finisterrae Ristorante in Florence… owner Depascalis Alessandro Galatina of Anima e Cuore Restaurant in Puglia, shares the story of his relationship with Tauck – and One such place is Baccanti Ristorante, nestled in a cave in Old Town, Matera, Italy – a perfect setting for fine Italian wine and fresh local ingredients on A Week In… Puglia.
And enjoy some additional curated content that's all about food… and Italy.

Off the beaten path in Venice

Newsworthy and noteworthy in Venice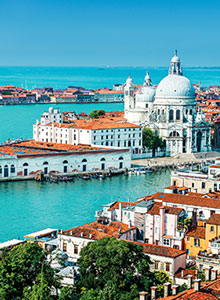 Venice, laced with charming canals, is one of the most romantic cities in Europe, filled with a treasure trove of art and architecture that tells its timeless stories. Today, though, there is an urgency to visit – and it is newsworthy for a different reason as preservation efforts are underway. As with most things, understanding the past is the key to understanding the future. We first share with you our insideTauck presentation by Art Historian Elaine Ruffolo, introducing you to 1,000 years of the city's history – followed by a video that tells the story of ongoing efforts to preserve the "city of canals" today.

30 Years Along Europe's "Yellow Roads"

30 fabulous years, including Sicily, Puglia and Cinque Terre

There was never a question about Tauck one day expanding tour operations into Europe – and in the early 1990s, the team of Arthur Tauck Jr., Scott Supernaw, and Herbert Wiese designed and road-tested our new journeys that inluded travels along Europe's secondary "Yellow Roads" on the Michelin maps. Scott Supernaw wrote:
"We spent the last months of 1989 and early 1990 with maps and Michelin guidebooks researching and developing itineraries; it was during these discussions that the concept of the "Yellow Roads of Europe" began to germinate. Arthur had spent a few years in Germany while serving in the Air Force. During these years, he traveled frequently, often times taking bicycle treks along the back roads and byways of European countries, passing through quaint, picture-postcard villages. There were many parts of Europe, in addition to cities, that the three of us had in our 'minds eye.' These routes were along the designated "Yellow Roads" on the Michelin maps; secondary roads that traveled through unbelievably scenic countryside, known mainly to locals….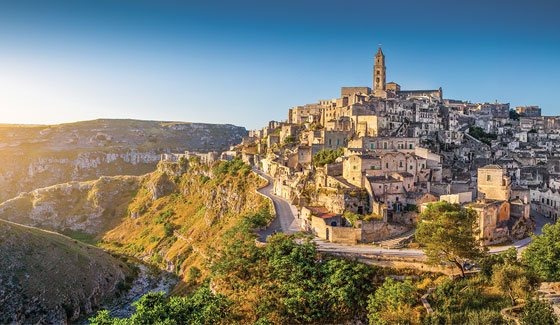 Portovenere, the Gulf of Poets

An epic inspiration for writers and poets

Portovenere is the gateway to Cinque Terre; visually stunning in its setting along the Tyrrhenian Sea, it served as inspiration for artists and poets such as Percy Bysshe Shelley and Lord Byron. In the early 1990s, when Tauck was developing the first season of European journeys, Arthur Tauck, Jr. was intent on including the remotely unique destination of Cinque Terre. Scott Supernaw, part of the development team along with Arthur Tauck, Jr. and Herbert Wiese, recounts:
"In the latter part of the 20th century Cinque Terre, and its 5 small mountaintop fishing villages, was largely inaccessible with no roads for larger vehicles between the villages, or for practical purposes, in or out. The region was relatively unknown, and for centuries was accessible only by sea. Years before, Arthur had trekked to the area while visiting daughter Kiki, who was studying in Florence – and in this first phase of developing our journeys to Italy he wanted to explore a way to include these unique fishing villages…

Meet 3 Longtime Tauck Travel Partners

Baron Beneventano del Bosco (Siracusa), Claudio Mollo (Sorrento), Judith Otto (Florence)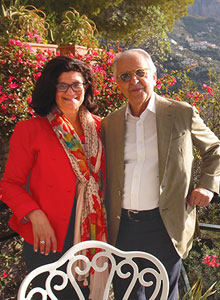 Our travel partners in Italy are the heart and soul of our journeys. Across the breadth of the country, they've brought innovation, fresh insights, and their local expertise to our journeys that exploring the places closest to their hearts.
Our travel partners are key to our success – and to ensure our guests' utmost satisfaction, our travel partners need to uphold our very high standards for service, quality and comfort, meeting expectations graciously, attentively and seamlessly. In our 96 years we've been fortunate to work with top professionals in the hospitality industry who share our commitment to travel excellence. Many of our supplier relationships span decades, testimony to the long-lasting connections and friendships that are such an integral part of our business.
We invite you to meet three of our Tauck partners in Italy – Baron Beneventano del Bosco (Siracusa), Claudio Mollo (Sorrento), and Judith Otto (Florence).
If You're Ready, We're Ready
2021 News – Cruising in Italy

September departure – Venice & the Dalmatian Coast – 7-night cruise plus 2 nights in Venice with visits to UNESCO World Heritage Sites in Venice, Dubrovnik, Sibenik, Kotor, Hvar and more
Musings From Colin's World

The Amalfi Coast of the Sorrento Peninsula
This month, Colin shares thoughts and perspectives about one of his favorite places in Italy, the Amalfi Coast. Colin is a professional journalist with a passion for travel – he has been examining the world of travel all of his life, and he's Tauck's very own roaming reporter.