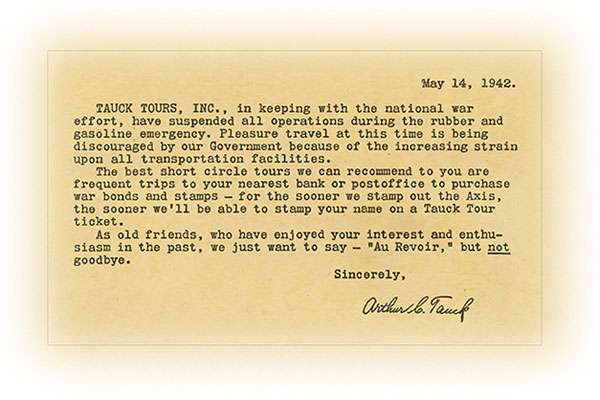 Dear Tauck Family of Friends,

My grandfather-in-law wrote this postcard 78 years ago this very month – May 1942! I smile when I read it and can feel his inner optimism when he says "Au Revoir" and not "goodbye." He was confident he would see his loyal guests "on the other side."

Family owned and led for 95 years, Tauck has accumulated the experience, wisdom and financial security to thrive in the good times and endure the more challenging times. As you know, our operations are paused globally at present. We understand, and share your disappointment that your travel plans have been postponed. The hopeful spirit of resilience that resonates in so many of your emails and letters is encouraging! We are grateful and heartened that so many of our travelers have rebooked their journeys for a later time.

Like Arthur Sr, we remain optimistic about our future and look forward to sharing our precious world when the time is right. In the meantime, we are working hard across a number of fronts. Our Worldwide Operations team is collaborating with our partners to think through operational details around the world, including on Rivers and Oceans. We have seen, in past moments of disruption, how some of the most impactful new ideas emerge and have value well after the crisis is over. We anticipate the same here again.

During this planning period, we are providing Tauck-original content virtually to stay close to you during this time. Colin Treadwell continues to write his columns, and we have developed a series of short videos from the "road," "river," and "ocean" to share stories, tips, and recipes from our TDs and partners. Last week, we offered an online lecture from our art historian in Florence and nearly 600 of our patrons joined for an informative discussion! Given this response, we plan to hold more of these special sessions. Some of our Tauck Directors have held Zoom Reunions with their past guests.

I will be sharing more over the coming months as we develop plans for opening. Our team is #taucktough in mind, energy, and most importantly, heart. We are more committed than ever to bring you a Tauck experience whose very essence is needed more than ever. Better times will come and we look forward to connecting with you again, experiencing our world in new ways and appreciating the joy of travel with our friends and family.

Sincerely,


Daniel W. Mahar, CEO
PS: These communications over the coming months have a "Porchlight" at the top. We use this Porchlight as a metaphor for a beacon which welcomes people "home." We think of this in relation to our employees who have been working from home and we look forward to welcoming them back to our Wilton Woods campus; and as a beacon for all of our guests for the time when we may travel again together.