We know how busy life can get for today's families which makes how you spend your "time off" with your loved ones more important – and more precious – than ever. To make it easy for you to have the vacation of a lifetime with your family, we've done all the hard work for you. We've researched the best hotels in ideal locations, sampled dining that's a real treat for your whole family, and road-tested itineraries that are well planned, seamlessly orchestrated and fun for all ages and interests. Take a look at what's included on every Tauck Bridges trip… the only thing missing is your family!
Virtually every travel expense, accommodations, most meals, sightseeing, admissions, daily activities, special experiences and more, even all gratuities!
Experienced Tauck Directors who manage every detail, every day of your trip and who are fun to travel with too – kids and adults alike often tell us our "TDs" are one of the best parts of the trips sharing stories, talents, knowledge and "wow" moments they'll remember forever
Local experts, entertainers and hosts who share their expertise and behind-the-scenes access to ensure an insider look at daily life
Hands-on learning and exclusive cultural experiences for Tauck Bridges guests only – not available when traveling on your own
Tauck's Guest and Cruise Protection Products for a money-back refund if you need to cancel your trip right up to the day before departure
It all adds up to peace of mind travel that makes your perfect family vacation... priceless!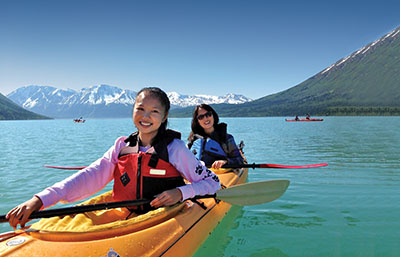 Imagine exploring Machu Picchu without worrying about how you'll get there… soaring over the African plains in a hot air balloon and landing for a champagne breakfast in the bush without making any of the arrangements… seeing the Sistine Chapel, after hours without crowds… or walking in the footsteps of gladiators at the Colosseum without standing on a ticket line. There's so much to do see and do on a Tauck Bridges trip and we make sure you have ample time to experience it all without being rushed, distracted or hassled. We take care of all the little things so you won't miss any of the big things!
We arrange and include airport transfers at the start and end of your trip
Don't worry about checking in or out of your hotel... we do it for you
Leave your luggage handling to us – we'll often have it in your room before you get there
Tipping, on-tour transportation and admission fees are on us
Breakfast is ready when you are, along with most lunches and dinners… including a few you might get to prepare with guest chefs
Special dinners and entertainment are our treat… all you have to do is show up
How you show your family the world matters... To make the most of your time together, we make sure you enjoy every extraordinary moment, fully… sharing unforgettable memories that last forever… without any of the work.
And where you stay matters, too… Where you stay is a big part of your family's vacation, so we've handpicked each and every accommodation to make sure they're in the best locations – family-friendly, providing top-quality service.
In North America, we feature the most sought-after lodges and wilderness retreats in the heart of the national parks – often sold out more than a year in advance, they're guaranteed for Tauck Bridges families. City-center, you'll stay in landmark hotels, steps from historic sites, and in the country, scenic settings at waterfront hotels and alpine resorts take center stage.
In Europe, history reigns in grand hotels in Rome, Florence, Venice, London, Paris, Munich and Dublin, offering you city-center convenience and a chance to create history of your own. From the Alps to the Amalfi Coast, stay in country retreats that create a sense of "place."
In Latin America, it's all about the eco-experience from Costa Rica to the Galápagos to Peru – and on safari in Africa, private game lodges and tented camps let you experience wildlife from dawn to dusk.
Our custom-designed riverboats cruising Europe's Danube, Rhine, Rhône and Seine rivers are similar in amenities and comfort to 5-star hotels on land… but with the added convenience of only having to unpack once as you cruise from place to place. And our expeditionary ship in the Galápagos Islands is one of the best for exploratory cruising.