THE RHINE AT-A-GLANCE
Flowing through six countries, the Rhine River has served as a link between southern and northern Europe since Roman times. Originating from mountain brooks in the Swiss Alps, the Rhine travels north into Switzerland's Lake Constance (Europe's third largest), over the surging Rhine Falls (among Europe's largest), and on to Basel, where it becomes a major waterway used to transport goods and raw materials. The Rhine then serves as a border between Germany and France, narrows through deep gorges and meanders through steep-sided valleys renowned for vineyards and castles. At the Netherlands border, the Rhine splits into tributaries that cross an extensive delta and empty into the North Sea.
The Rhine River Facts & Figures

Length: Approximately 1,230 kilometers / 765 miles

Source: Mountain brooks in the Swiss Alps

Mouth: North Sea

Main Tributaries:
Moselle: Travels southwest from Koblenz to France
Neckar: Travels southeast from Mannheim to Heidelberg
Main: Travels southeast form Mainz to Frankfurt

Countries:
The Rhine flows through the countries of Switzerland, the Principality of Liechtenstein, Austria, Germany, France and the Netherlands
UNESCO World Heritage Sites in the Rhine River Region:
Netherlands: Defense Line (to control the waters) & 17th-century Canal Ring, Amsterdam
Belgium: La Grande-Place & Major Town Houses of Victor Horta, Brussels; Plantin-Moretus Museum, Antwerp
France: Grande île, Strasbourg
Germany: Speyer Cathedral; Wurzburg Residence; Roman Monuments, Trier; Town of Bamberg; Cologne Cathedral; Upper Middle Rhine Valley
Luxembourg: City of Luxembourg Old Quarters & Fortifications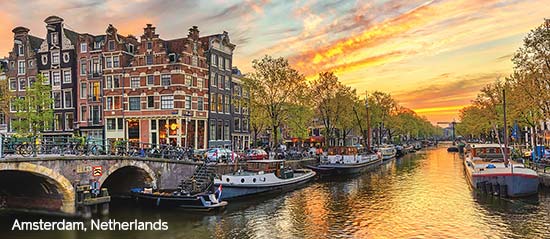 Key Cities Along or Near the Rhine River:
Amsterdam, Netherlands
Maastricht, Netherlands
Antwerp, Belgium
Brussels, Belgium
Cologne, Germany
Luxembourg, Duchy of Luxembourg
Strasbourg, France
Lucerne, Switzerland
Basel, Switzerland

A Brief History of the Rhine River

Early Human Settlements / Roman Empire:
Written human history along the Rhine begins with the early Roman Empire, when the river was seen as the outermost border of civilization. Those living beyond the Rhine (Celts along the upper section and Germanic tribes along the lower) were considered by the Romans as "wild." Over time, the Rhine became a major shipping route and a central axis of the Holy Roman Empire. The Romans' first urban settlement, recognized circa 50 A.D., was on the present-day site of Cologne, Germany.

Medieval Period to World War I:
The Rhine was used from Roman times to transport trade and goods deep into inland Europe, with the many castles and fortifications built up around the Middle Rhine attesting to its importance. However, they were built not for any romantic purpose but instead to exact tolls from those using the river—often generating significant wealth for their owners and communities.

The Rhine has also long served as a natural political border—an especially contentious one between France and Germany, subject to change over time. The borders along the Rhine, as we know them today, were shaped mostly between the late 1700s and the early 1800s. In the 1870s, Germany took Alsace from France during the Franco-German War; Alsace was returned to France after World War I.

World War II to Present:
The Rhine served as a formidable German border during World War II, a defensive barrier to Allied troops. Fighting brought mass destruction of bridges, trains and ships along the Rhine, including the bridge at Arnhem—immortalized in the film, A Bridge Too Far, and at Nijmegen, over a tributary of the Rhine. Both were part of the Allies' failed "Operation Market Garden." In a separate operation, the Ludendorff Bridge at Remagen was captured by the Allies intact, helping to bring the war to an end. Post-war, the region has focused on political cooperation, economic development and tourism.

The Rhine River in European Culture
Over the centuries, the civilizations along the Danube have contributed mightily to some of the most significant artistic movements in European history – and the river itself has inspired a wide range of works across the spectrum:

Architecture
A stretch of quaint towns, castle ruins and winegrowing villages alongside the Rhine—between the towns of Koblenz, Bingen and Rüdesheim in the Upper Middle Rhine Valley—is a UNESCO World Heritage Site. Recognized for its beauty as well as the Rhine's importance as a route of cultural exchange, the river has inspired many writers, painters and musicians.

Literature
German author, composer, philosopher and abbess Hildegard von Bingen wrote theological, botanical and medicinal texts as well as liturgical songs and poems in the 12th century. A solitary soul who drew her share of interest, Hildegard spent nearly her entire life in the valley of the Rhine. The epic Norse/Germanic poem Der Nibelungenlied (The Song of the Nibelungs), thought to date back to the 13th century, follows the cycle of betrayal and revenge amongst the Worms royal court and the quest of the hero Siegfried, a prince from the Lower Rhine, to be united with Kriemhild, a Burgundian princess. It's a tale of love, deception, quarreling queens, dragon slaying, grief and golden treasure.

Music
Around 1850, the German composer Richard Wagner began work on the first of three operas—finished in 1874—loosely based on the Niebelungenlied, collectively titled Der Ring des Nibelungen (commonly referred to as the Ring Cycle). Wagner's story similarly centers around a ring of power and the attempts of various people to acquire it. The main protagonist is not Siegfried, but Wotan, King of the Gods, and the story is about how he sought power and the price he ultimately paid.

Folklore
The Lorelei refers to both a soaring rock along the Rhine and a legendary siren. They are the source of legends about a maiden said to woo young men to their destruction. In one version, the maiden (betrothed to a knight who failed to return) remained ever faithful to her love. Falling prey to rumors portraying her as a sorceress, she was tried for using her evil powers before the Archbishop of Cologne. Felled by her charms, the judges sent her off to an abbey. En route, she passed the Lorelei for one last look—only to spot her young knight. Startled, he looked up and saw her on the precipice and forgot to steer, crashing his boat. She leaped to her death; together they lie in peace at the bottom of the Rhine.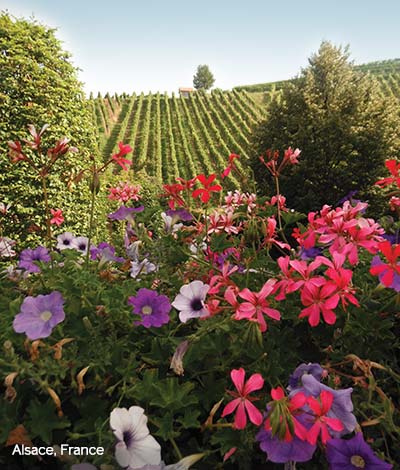 Rhine Wines
Most German winemakers owe their existence to the Rhine region, where the roots of terraced vineyards along the river's banks are traced back to the days of the Romans. While each region produces distinctive styles, the predominant grape is the Riesling; there are also Gewürztraminer, lightly sparkling Sylvaner (in Alsace) and some Pinot Blanc and Chardonnay wines.

Interesting Sites Along or Near the Rhine
Rijksmuseum, Amsterdam, Netherlands: The national museum of the Netherlands - one of Europe's top collections of art and historical items and the world's largest collection of Dutch Master paintings.

Museum Boijmans van Beuningen, Rotterdam, Netherlands: Medieval to contemporary art with a focus on Dutch art, including works by Bosch, Bruegel the Elder, Rembrandt, Magritte, Dali and de Kooning.
Kröller-Müller Museum, Hoge Veluwe National Park, Netherlands: 91 van Gogh paintings, works by Picasso, Mondrian and Seurat, and sculpture by Rodin, Moore and others, set in a renowned center of art and nature.
Schlagkamp Museum, Cochem, Germany: One of the world's largest collections of vintners', coopers' and winemakers tools housed in a winery built in 1923.

Basel Museum of Fine Arts, Basel, Switzerland: A focus on Upper Rhenish and Flemish paintings, drawings from 1400 to 1600, 19th- and 20th-century art, and the world's largest collection of works by the Holbein family.

Palais de Rohan, Strasbourg, France: Sumptuous French Baroque 18th-century architecture, housing a museum collection on fine arts with works by Rubens, Rembrandt, van Dyck, Goya, El Greco and more.

Technik Museum, Speyer, Germany: Masterpieces of technology, including aircraft, classic cars, locomotives, fire engines, submarines and a unique collection of automatic musical instruments.

Red Star Line Museum, Antwerp, Belgium: Exhibits telling the human story of emigration, with a focus on those who sailed to America on Red Star Line ocean steamers to seek better lives, 1873 to 1934.
Traditional Tastes of the Rhine region Netherlands:
Gouda, Edam, Boerenkaas, Leidse and other cheeses; raw haring, herring served with minced onions; patat (thick-cut "French" fries served with mayonnaise); stampot (mashed potatoes and carrots served with rookworst sausage); erwtensoep (thick pea soup served with smoked sausage); and jenever, a Dutch alcoholic beverage similar to gin and served with beer or on its own.
Rhineland, Germany: Crusty baked döbbekooche (grated potatoes with minced onion, eggs and sausage); tender sauerbraten (marinated and roasted beef) served with dumplings, potatoes or noodles; pumpernickel breads (caramelized by long baking periods); Westphalian ham (smoked over juniper wood); and Kölsch, a beer brewed only in Cologne and always served in 0.2L stange glasses.
Alsace, France: Kugelhopf, a light fluted cake studded with raisins and almonds traditionally served with café au lait; choucroute garnie, mild sauerkraut topped with a variety of ham, bacon, sausages, carrots and potatoes; tarte flambée, a thin crusted "pizza" topped with crème fraiche or fromage blanc, onions and smoked bacon; and excellent breads, cakes, tarts and cookies.
Switzerland: Traditional fondue (melted cheese served with pieces of bread for dipping); rosti (made from skillet-fried grated potatoes); pastetli (mushrooms and meat in a creamy sauce); rippli (smoked pork loin served with bacon, beans and potatoes; and Basler leckerli (cookies made with honey and candied orange and lemon peel).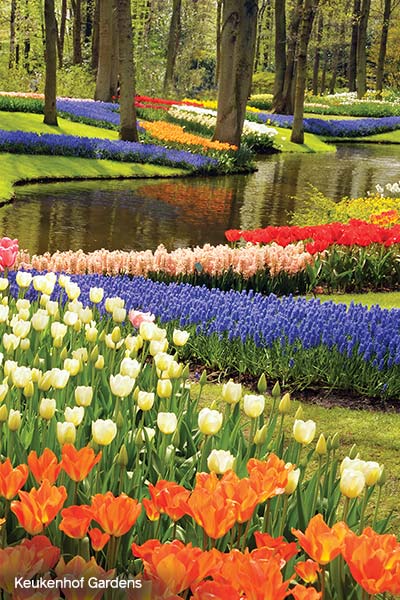 What to Expect Along The Rhine with Tauck

Tauck's award-winning river cruises along the Rhine offer more included exclusive experiences than any other river cruise company in Europe – from in-depth, behind-the-scenes sightseeing to immersive dining ashore in interesting venues. Here is just a sampling:
Visits to Cologne Cathedral and Siegfried's Mechanisches Musikkabinett in Rüdesheim
Scenic sailing through the Upper Middle Rhine Valley, a UNESCO World Heritage Site
A choice of Koblenz sightseeing, a drive along the Rhine & Moselle or bicycling along the Rhine
A visit to the Alsatian cultural capital of Strasbourg and a visit to a revitalizing Baden-Baden spa
A drive along the Alsatian wine route and a visit to Haut-Koenigsbourg Castle
Visits to Cologne and Basel, cities rich in Rhine history and art
An overnight stay in the heart of Brussels at Hotel Amigo, near La Grande-Place
A Tauck Exclusive culinary experience at the 17th-century Château Neercanne
Visits to Keukenhof Gardens and the Rijksmuseum and an Amsterdam canal cruise
Visit to the Netherlands' WWII Airborne Museum or the Kröller-Müller Museum
A fun Antwerp beer tasting and a visit to the Red Star Line Museum
Visit to the Netherlands American Cemetery