Best For First Timers - Bon Voyage! France Family River Cruise
If you're new to the idea, embark on the best family river cruise for first timers: Tauck's eight-day Bon Voyage! France Family River Cruise on the Rhône.

While in Paris, follow clever clues on a scavenger hunt for artistic masterpieces inside the famous Musée du Louvre. Ashore in Tournon-sur-Rhône, take a culinary class at the highly regarded Scook cooking school, and collect sweet memories at a chocolate-making demonstration at Valrhona's Cité du Chocolat.

A Tauck Exclusive outing promises a special visit to a private, family-owned ranch in the French "Wild West" – La Camargue. See gardians (Provençal cowboys) in action atop their noble white steeds, and savor a traditional Provençal lunch.

Then in Arles, create delectable art during a hands-on chocolate painting experience led by artist Mark Alsterlind. Enjoy a bicycle ride outside the Avignon city walls and a walk across the Pont du Gard, a three-level, 164-foot aqueduct "bridge" built by the Romans to carry fresh water over the Gardon River nearly 2,000 years ago.

Check out our France Family River Cruise.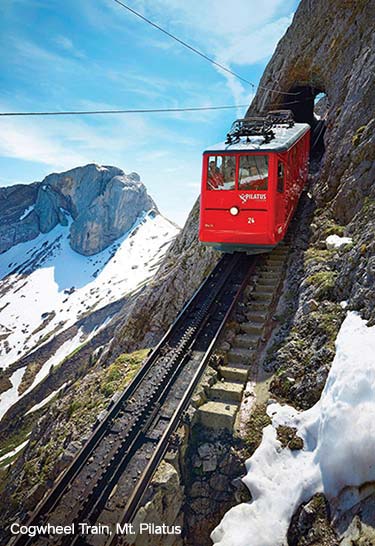 Best For Adventure - Castles on the Rhine: Family Riverboat Adventure
The name says it all. Our Castles on the Rhine: Family Riverboat Adventure presents plenty of captivating escapades guaranteed to please cruisers of all ages. One stop on this family-friendly Rhine River cruise is Lucerne. Hop in a gondola for a 7,000-foot ascent to the peak of Mt. Pilatus. Later, climb onto the world's steepest cogwheel train for a pulse-pounding, 48-degree descent back down.

Parlez-vous français? You will, after becoming "French for a Day" in historic Strasbourg. Learn useful French phrases, and sing along to favorite French songs. And how about a chocolate tasting? Just say "oui!"

Travel through charming towns – and time. Witness authentic medieval splendor with a Tauck Exclusive grand dinner and gala evening at Burg Satzvey. You'll be greeted by a member of the very family that's called this 12th-century castle "home" for more than 300 years.

On-board highlights include Carnival Night. You'll all craft your own costumes to join in this lively celebration while cruising the Middle Rhine.

Explore Tauck's Rhine Family River Cruise itinerary here.

Best For Experienced Travelers - Douro Discovery: A Family River Cruise in Portugal
River cruise connoisseurs should try the eight-day Douro Discovery: A Family River Cruise in Portugal. Two nights in Lisbon brings a chance to explore its neighborhoods via a vintage tram and, at the National Maritime Museum, reveal how tiny Portugal once ruled the seas.

Be wowed by a regal Tauck Exclusive: a private tour of the National Palace of Queluz, the sumptuous former residence of the royal family. You'll feel like kings and queens yourselves during the welcome reception in the garden and dinner in the Throne Room!

On a bicycle tour of Porto, take a two-wheeled spin through mazes of vibrant streets. In Pinhão, choose your excursion: kayaking on the Douro River or a hike through hilltop vineyards. Active play continues to beckon in Vinho Verde, with bicycling through beautiful wine country, and ending at the storybook town of Amarante – once home of Portugal's Saint Valentine and famous artists and writers.

Find the whole Douro Discovery: A Family River Cruise itinerary here.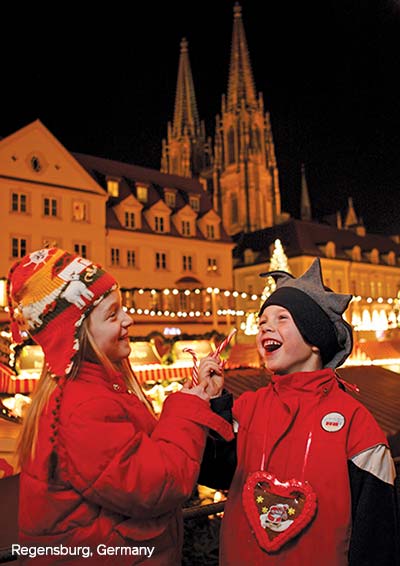 Best For The Holidays - Holiday Magic: Danube Family River Cruise
Here's a wonderful gift everyone will want: a holiday river cruise in Europe, along the Danube River, to visit its famous Christmas markets. Holiday Magic: Danube Family River Cruise, our only family-focused Christmas markets cruise, is just perfect for celebrating the season together. Because both ashore and on board the decorated ms Savor, adore eight days filled with festivities, games and entertainment straight out of a fairytale.

Behold Vienna's sights, such as the Prater amusement park and its dazzling Christmas market. At a rare private palace – the Palais Pallavicini – an elegant, Tauck Exclusive evening features a champagne-or-juice reception, dinner, a performance and a waltzing lesson.

Voyage to Budapest. Then, on to Bratislava, where you'll engage in medieval games and a scavenger hunt in Old Town. Back in Austria, discover the Wachau Valley and Salzburg, and in Oberndorf, the story behind the carol "Silent Night," right at its birthplace. In Passau, Germany, be treated to a traditional sweets workshop at a local café that's been popular for four generations.

Learn more about our Danube Family Christmas Cruise today!