Of course, Europe always enthralls, but a Tauck river cruise brings you straight to enchanting villages, along shimmering waterscapes, during the most magical season of all. On the Danube River, the Rhine River or storybook canals, or on land with exclusive experiences, you'll make merry with the best Christmas river cruise for you – whether holiday reveler, family vacation planner or expert traveler.

Best Danube River Cruise
There's no place like Europe for the holidays. And with Tauck's eight-day, Christmas Markets Along the Danube river cruise, you'll unwrap all of the charms and treats of this 700-year-old tradition. Start getting in the holiday spirit when you join the crew and your fellow travelers in trimming the riverboat's Christmas tree.

Enjoy guided visits of Christmas markets in Vienna, Salzburg, Passau, Regensburg and Nürnberg. Whether called Christkindlmarkt or Weihnachtsmarkt, each one sparkles with unique character. Savor a true feast for the senses. Nibble gingerbread and bratwurst, listen to impressive pipe organs and heavenly choirs, sip warming mugs of glühwein and gaze at stands loaded with local crafts.

Save room for wonderful outings, including a tour of the Baroque Melk Abbey, a chance to explore Thurn und Taxis Palace and its private Christmas market in Regensburg and a holiday lunch and children's choir performance at Vienna's Palais Pallavicini.

View the full itinerary for Christmas Markets Along the Danube here.

Best Rhine River Cruise
Delivering equal parts old-world charm and a festive holiday mood, the eight-day Christmas Markets Along the Rhine river cruise through France and Germany will make your spirits bright.

Marvel at Strasbourg's original Marchés de Noël, France's oldest and largest Christmas market. Here, a dozen holiday markets fan out along the Grand Rue, under the cathedral. Stop in the Bredle Market so you can taste the tiny, traditional cakes of Alsace. Browse the artisan stalls in Baden-Baden's Holiday Market in the Black Forest. Then it's onto Heidelberg's Weihnachtsmarkt, spanning five city squares, with a setting as serene as any snow globe.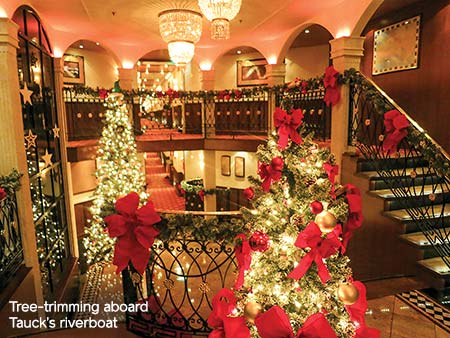 Peruse the decorated shops and stalls of lovely Rüdesheim, home to Europe's largest live nativity scene. Join in a cookie baking demonstration and tasting, revealing the secrets of traditional lebkuchen and Rüdesheimer coffee (complimented with a touch of locally produce brandy added). In Cologne, take a guided tour of this historic cultural center on the Rhine, with its Christmas market adjacent to the Gothic-style Cologne Cathedral.

While on the Rhine, on-board holiday experiences include sipping glühwein (German mulled wine), a tree-trimming party and a lecture on Strasbourg's storytelling traditions.

Check out the whole Christmas Markets Along the Rhine cruise itinerary here.

Best For Experienced Travelers
Cruised Europe before, but want to enjoy it in a new and dreamy way? Select Tauck's best Christmas market river cruise for you – Yuletide Spirit: Amsterdam to Brussels.

Aboard the ms Grace, outfitted in her gorgeous holiday finery, embrace eight glorious days tracing a route through the Netherlands and Belgium. These countries positively glow with holiday spirit and welcome you with their yummiest delicacies, like glühwein, waffles, Belgian beers, stroopwafels, chocolate lace and cheese.

In Amsterdam, music fills the air during a guided tour and mini concert at the Royal Concert Hall. Enjoy a private visit to a beautiful canal home and stories about life along these historic waterways. Indulge in delicious treats as you take a private, evening canal cruise to see the Amsterdam Light Festival.

South Holland promises Gouda and a demonstration and tasting of stroopwafels, an iconic waffle sandwich with syrup in the center, which the town is credited with inventing. Head to Den Haag for a tour and an exhibition of works by Dutch graphic artist MC Escher, inside an 18th-century royal palace. Also included on this cruise: unforgettable visits to holiday markets and Winterfest in Ghent, Bruges, Antwerp and Brussels.

Review the full itinerary for the Yuletide Spirit: Amsterdam to Brussels cruise here.

Best For Families
Holiday Magic: Danube Family River Cruise, our only family-focused Christmas markets cruise, is just perfect for creating memories with your loved ones. Both ashore and onboard the ms Savor, all decked out for the holidays, the young and young at heart will adore these eight days filled with festivities, games and entertainment straight out of a fairytale.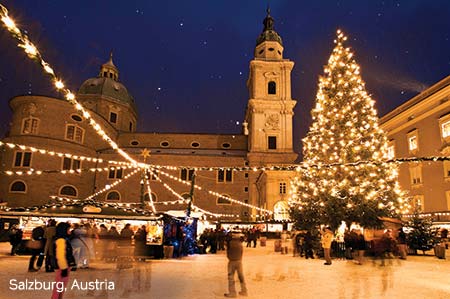 Begin by visiting Vienna's sights, such as the Prater, a landmark amusement park, and its glittering Christmas market. Dress up for a Tauck Exclusive evening at one of the city's few private palaces – Palais Pallavicini – to enjoy a champagne (or juice) reception, dinner, musical performance and waltzing lesson.

After exploring Budapest, sail to Bratislava, where you'll engage in medieval games and a scavenger hunt in Old Town. Back in Austria, discover the Wachau Valley and Salzburg, and in Oberndorf, the story behind the beloved carol "Silent Night," right at its birthplace. Then on to Passau, Germany for a traditional sweets workshop at a local café that's been making treats for residents for four generations.

Find the complete Holiday Magic: Danube Family River Cruise itinerary here.