Best For First Timers - The Rhine, Swiss Alps & Amsterdam
Seven nights on the Rhine with one of the best rated cruise lines in the world delivers the perfect introduction to river cruising, as you journey from Amsterdam to the Swiss Alps. After exploring the "Venice of the North" (as Amsterdam is often called), you'll travel to Kinderdijk, a Dutch village boasting The Netherlands' largest concentration of windmills.
As your voyage continues, you'll be treated to a Tauck Exclusive reception and dinner with entertainment at Schloss Ehreshoven, a 15th century castle and famed filming location. Cruise through Germany, where excursions include your choice of a visit to Stuttgart (home of luxury automakers Porsche and Mercedes-Benz) or to the tranquil spa town of Baden-Baden.
After arriving in the heart of Alsatian wine country, you'll also enjoy a private reception in the Unterlinden Museum. Even after disembarking in Basel, your adventure is far from over. To cap off your journey, enjoy a two-night stay in Bern including an excursion that will have you ascending to the "Top of Europe" at Jungfraujoch.
View the full itinerary for our Rhine River Cruise from Amsterdam to Switzerland.
Best For Families - Castles on the Rhine: Family Riverboat Adventure
Our Castles on the Rhine: Family Riverboat Adventure is one for the generations – with an eight-day itinerary delivering experiences that delight passengers of all ages. After boarding your ship in Basel, the thrills begin on the bank of Lake Lucerne, where you'll hop in a gondola for a 7,000-foot ascent to the peak of Mt. Pilatus. After some time to explore, climb aboard the world's steepest cogwheel train for a pulse-pounding 48-degree descent back down to Lucerne!
You'll become "French for a Day" when your ship docks in historic Strasbourg. Learn useful French phrases, sing along to favorite French songs and, best yet, taste decadent chocolates!
The next leg of your voyage has you traveling through charming towns – and time – for a Tauck Exclusive grand dinner and evening at Burg Satzvey, a 12th-century castle with an authentic medieval experience. An on-board highlight is Carnival Night, where you and your family create your own costumes to join in this vibrant celebration while cruising through the Middle Rhine.
Plan your family fun. Explore our Rhine Family River Cruise.
Best For Experienced Travelers - Rhine Enchantment, Amsterdam to Milan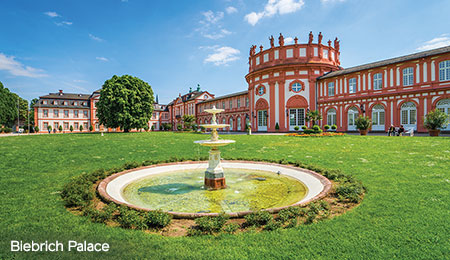 Even if you've cruised the Rhine before, you've never experienced it quite like this. Our 11-day Rhine Enchantment, Amsterdam to Milan cruise includes high-speed rail travel to Milan and an added daytime excursion to Lake Como.
Highlights include a Tauck Exclusive event – including dinner and entertainment – at Schloss Biebrich, an 18th-century palace in Wiesbaden, Germany; a bicycle ride through the famed Black Forest followed by lunch and, of course, Black Forest cake for dessert; a three-night stay at the 5-Star Hotel Principe di Savoia in Milan; and a six-course lunch at a family-owned trattoria on the island of Isola Comacina in Lake Como.
See the Rhine in a new way on our Rhine Valley River Cruise.
Best For Holiday Spirit - Christmas Markets Along the Rhine
If you believe the holiday season (November through December) is the best time of the year, our eight-day Christmas Markets Along the Rhine river cruise through France and Germany will make your spirits bright.
See Strasbourg's Marchés de Noël, the oldest and largest Christmas market in all of France. Here, a dozen holiday markets fan out along the Grand Rue under the watchful eye of the cathedral—be sure to stop in the Bredle Market so you can taste the tiny, traditional cakes of Alsace. Browse the artisans' stalls in Baden-Baden's Holiday Market in the Black Forest. Then it's onto Heidelberg's Weihnachtsmarkt, spanning five city squares, with a setting as serene as any snow globe. Finally, peruse the decorated shops and stalls of enchanting Rüdesheim, home to Europe's largest live nativity scene…and take part in a cookie baking demonstration and tasting¬—learning the secrets of traditional lebkuchen and Rüdesheimer coffee.
On-board holiday experiences include sipping glühwein (German mulled wine), a festive tree-trimming party and a lecture on Strasbourg's storytelling traditions.
Ready to start the celebration? View our Rhine Christmas Markets Cruise.
Best For Beer Lovers - Autumn Along the Rhine... Munich's Oktoberfest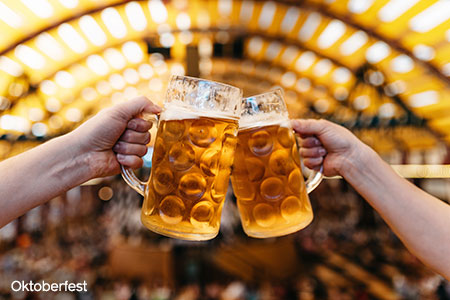 Raise your stein to toast Autumn Along the Rhine... Munich's Oktoberfest, a river cruise from Amsterdam to Munich embarking in September…and visiting the largest festival in the world. In addition to classic Rhine River sights and experiences, you'll be treated to a robust collection of beer-themed excursions along your journey.
Sample goods from local breweries and eateries with the Amsterdam Brews & Bites Adventure walking tour. Taste craft brews in Old Town Düsseldorf. Indulge in a Tauck Exclusive beer-pairing lunch with a brew master in Heidelberg. And spend two nights in Munich – a stone's throw from the city's historic Oktoberfest fairgrounds – for the traditional celebration of beer including reserved seating for lunch with live entertainment in an exclusive Oktoberfest brewery tent.
Three cheers to a lively Oktoberfest. Explore our Germany Oktoberfest River Cruise.