Best For First Timers - Villages & Vintages: Cruising the Douro River Valley
Begin with Villages & Vintages: Cruising the Douro River Valley, our eight-day, cruise-only tour that's the ideal introduction to river cruising — and to the tastiest products of this winding, scenic region, steeped in a wine-making culture thousands of years old. Because throughout, while discovering the timeless traditions and welcoming people, you'll also frequently sample the Douro River Valley's renowned food and wine.

Settle aboard the brand-new ms Andorinha riverboat, and explore colorful, labyrinthine Porto, the city where port wine is made and stored and which gave the beverage its name. Dock in Peso da Régua, where you can enjoy a Tauck Exclusive port-wine cocktail-making workshop.

Sail to the idyllic village of Pinhão, the gateway to vineyards and wine estates, like Quinta do Portal, the one you'll experience at a Tauck Exclusive private dinner with wine pairings.

In the Vinho Verde ("Green Wine") countryside, take a bike tour along the picturesque Tâmega River and into exquisite Amarante. At Vila Nova de Gaia, the destination of wines shipped from vineyards, visit one of its caves for a tour and tasting...and to toast this delicious journey.

There's so much more! Learn about our Douro Valley River Cruise.

Best For Families - Douro Discovery: A Family River Cruise
Douro Discovery: A Family River Cruise in Portugal promises eight days that will appeal to adventurous spirits. Spend two nights in Lisbon, during which you'll see its neighborhoods via a vintage tram and, at the National Maritime Museum, reveal how tiny Portugal once ruled the seas. Plus, take a Tauck Exclusive private tour of the National Palace of Queluz, the opulent former residence of the royal family, followed by a welcome reception in the garden and dinner in the Throne Room!

Recapture heroic legends and romance in medieval Coimbra. Navigate mazes of vibrant streets on two wheels during a bicycle tour of intriguing Porto. In Pinhão, choose your Tauck Exclusive excursion: a hike through entrancing hilltop vineyards or kayaking on the Douro River.

Another Tauck Exclusive awaits in Vinho Verde, with bicycling through stunning wine country scenery, and ending at the storybook town of Amarante—once home of Portugal's Saint Valentine and famous artists and writers. Or instead, head for Guimarães, known as the "Cradle City" where the kingdom of Portugal was born after a famous battle in 1128.

Explore Tauck's Douro Family River Boat Cruise.

Best For Experienced Travelers - Exploring the Douro, Plus Lisbon & Madrid
Cruised the Douro River before? Try it in extended Tauck style, with our Exploring the Douro, Plus Lisbon & Madrid selection. Savor twelve total days — a seven-night cruise, with the addition of two nights in Madrid and two nights in Lisbon. You'll discover, in-depth, an incredible seven UNESCO World Heritage Sites in Spain and Portugal.

Experience Madrid's 2,000+ room, jeweled Royal Palace and the art masterpieces of Museo del Prado. Appreciate the flavors of tapas on an expert-led tasting walk. View the ancient city of Salamanca's "living room," the elegant Plaza Mayor, the stunning cathedral and one of the world's oldest universities.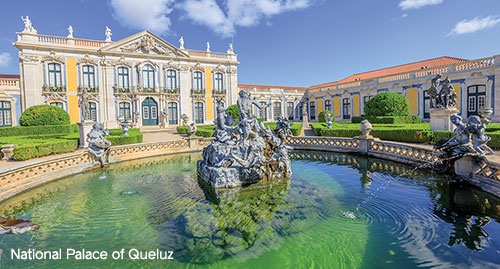 Along the captivating Douro, stops include Porto, Guimarães and Coimbra, with highlights such as private wine tastings in historic quintas, or country estates. Your extraordinary excursions include an afternoon cruise to Folgosa, where you'll be received with a special culinary experience at a gourmet restaurant. Revel in traditional-meets-contemporary fare prepared by acclaimed Portuguese chef Rui Paula, paired with Douro wines and riverside views.

Your fitting finale in majestic Lisbon includes a Tauck Exclusive: a royal dinner in the 18th-century National Palace of Queluz, a blend of Baroque, Rococo and Neoclassical architecture and graced with French-inspired gardens.

Explore Portugal and Spain on Tauck's River Cruise.