Best For First Timers - The Blue Danube
Is the Danube truly blue? While composer Johann Strauss may have taken a few liberties with the Danube's color, he was right about one thing: it is certainly beautiful! The reviews agree: The Blue Danube is Tauck's #1 best-selling itinerary worldwide. You'll see why as you soak up picturesque scenery on a 12-day journey through five countries with stops in Prague, Bratislava, Regensburg, Vienna, Budapest and Salzburg.
Life onboard our best-rated river cruise line is one of refined pleasures. Along the way, you'll discover architectural and cultural treasures, taste locally made wine and dine like an aristocrat at Tauck Exclusive private royal palace dinners. Your Danube River Cruise begins and ends with 2-night stays at premier, city-center hotels in Budapest and Prague, as well as a 2-day docking mid-cruise in Vienna—giving you ample opportunity to further explore these romantic capitals of Europe.
View the full itinerary for the Blue Danube River Cruise here.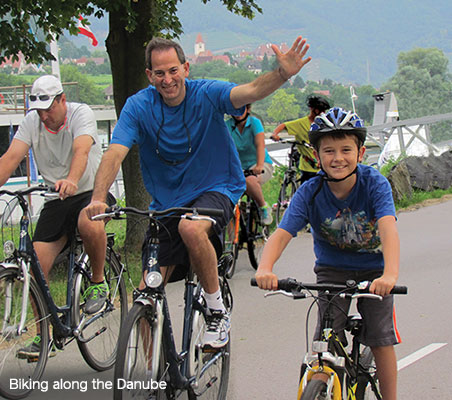 Best For Families - Blue Danube: Family Riverboat Adventure
The river is ready for adventure, the hills are alive with music and medieval castles are game for modern play on the best-rated Blue Danube: Family Riverboat Adventure. Tauck has thought of everything to make your family vacation stress-free and full of fun. This 8-day river cruise takes you through four countries with stops along the way for geocaching, marzipan making, and bicycling along the Danube. Discover the secrets of a royal maze, see a knight's tournament and, of course, eat strudel!
Experience family harmony on a tour of Salzburg, where you'll step into scenes straight out of the classic family film The Sound of Music. Everyone will thrill to iconic views from atop the 19th-century Riesenrad (giant Ferris wheel) at the Vienna Prater, one of the world's oldest amusement parks. And fairytales come true at a Tauck Exclusive: a private dinner with Viennese entertainment, held in the ballroom of a Baroque palace.
View the full itinerary for Tauck's Family Danube River Cruise.
Best For Experienced Travelers - Royal Danube, Berlin & Kraków
Enjoy more time to discover the Danube east of Vienna on the 14-day Royal Danube, Berlin & Kraków. This insightful, revealing excursion begins and ends with 3-night stays in premier, city-center hotels in Berlin and Kraków. In between, your river cruise will take you past picture-perfect scenery, with stops to sample wines in the Wachau Valley and party like its 1799 in Vienna at a Tauck Exclusive palace dinner. Another must-see is the impressive Danube Gorge at the confluence of the Danube River and Danube-Main Canal.
While your itinerary features unforgettable outings (like dining underground in the Wieliczka Salt Mine near Kraków), you're also free to customize as you please. Learn more about WWII history or make a pilgrimage to the home of Wagner and Liszt. Visit an ancient abbey or a working BMW factory. Take a boat ride, bike ride or a mountain tram. Pay tribute to an unlikely hero at Schindler's Factory or breathe in views and fresh air at Poland's best-known mountain resort. This is the Danube, your way!
Explore Tauck's Poland River Cruise today!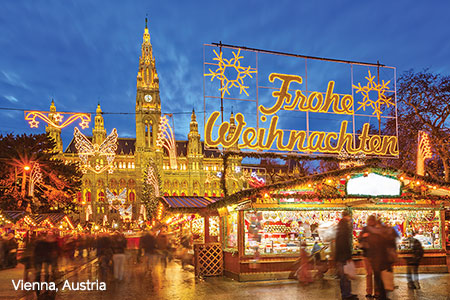 Best For Christmas Markets - Christmas Markets Along the Danube
What is the best time to experience a celebration 700 years strong? Join Tauck in November and December for Christmas Markets Along the Danube. This 8-day river cruise unwraps all of the charms and treats of this age-old tradition. The festivities begin as you join the crew and your fellow travelers in trimming the riverboat's Christmas tree. You'll definitely be in the holiday spirit as you visit Christmas markets in Vienna, Salzburg, Passau, Regensburg and Nürnberg. Whether called Christkindlmarkt or Weihnachsmarkt, each one sparkles with unique character that you won't want to miss!
This river cruise is truly a feast for the senses. You'll see why as you nibble gingerbread and bratwurst, listen to impressive pipe organs and heavenly choirs, sip warming mugs of glühwein and gaze at stands loaded with local crafts. Be sure to save room for wonderful outings, including a tour of the Baroque Melk Abbey, a chance to explore Thurn und Taxis Palace and its private Christmas market in Regensburg and a holiday lunch and choir performance at Vienna's Palais Pallavicini.
Explore Tauck's Danube Christmas Markets River Cruise.
Best For Music Lovers - Musical Magic Along the Blue Danube
Pay homage to the river that inspired a beloved waltz and was home to the world's most lauded composers. Musical Magic Along the Blue Danube is a 12-day "master class" in musical greatness, as you revel in the prodigious talents of Mozart, Beethoven, Bartók, Schubert, Liszt, Strauss, Haydn and more.
Your itinerary is a glorious full-out symphony of Tauck Exclusive experiences. In Budapest – where you'll stay two nights in a premier, centrally located hotel—enjoy a guided tour of the gilded 1884 State Opera House. On board your river cruise, you'll be immersed in workshops, seminars and performances by Tauck's "maestros." Listen to works from Mozart's operas, as well as a fascinating talk by a Mozarteum University professor, in Salzburg. And the crescendo of your musical journey is a visit to Vienna, the Imperial City. Sit in on an orchestra rehearsal at Auersperg Palace before a night you'll never forget: a gala evening at Palais Ferstel, with a sumptuous dinner, orchestra, ballet, and Mozart…now that's musical magic!
Learn about our music-focused Danube River Tours.