By Amy Clyde
When I was a child, my mother introduced me to Masterpiece Theatre, and I was hooked. The costume dramas, distant places, and different manners captivated me. My Brady Bunch-loving friends thought I was weird, but that didn't matter. I was already discovering one of the happiest truths of my life, that the British and the Irish share an uncanny knack for storytelling in every form, from poetry and prose to television and film.
Today, when my nose isn't buried in a book, I could watch movies about Ireland and Great Britain all day, and don't get me started on the riveting television coming out of those parts right now (The Crown, I'm talking about you). Traveling and living over there for a time has made me even more enthusiastic. I always want to return to those beautiful landscapes and fascinating people as fast as possible – even if only by watching movies.
Here are just a few for inspiration…
FILMS SET IN IRELAND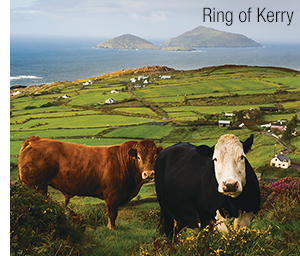 1 Once (2007)
An Academy Award-winning musical about two sweet lost souls who meet on the streets of Dublin and are inspired and renewed through making music together.
2 Ryan's Daughter (1970)
A sweeping saga of forbidden love unfolds against a backdrop of World War I and the spectacular scenery of coastal County Kerry, directed by David Lean.
3 The Wind that Shakes the Barley (2006)
The story of a doctor and his brother from County Cork who are caught up in the Irish War of Independence and the Irish Civil War in the early 1920s.
4 Dancing at Lughnasa (1998)
The camaraderie of five unmarried sisters living in a picturesque remote village in the 1930s is shaken by the arrival of two men. Meryl Streep stars.
5 My Left Foot (1989)
Daniel Day-Lewis plays Christy Brown, the celebrated Dublin writer and painter, who had cerebral palsy and was only able to write and paint with his left foot.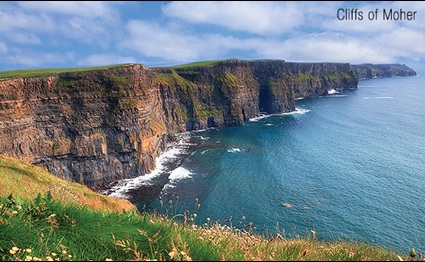 FAMILY FILMS SET IN IRELAND
1 The Secret of Roan Inish (1994)
A young teenage girl living on the Irish coast uncovers her family's strange personal connection to the legend of the Selkies – mermaids who are half human and half seal.
2 The Quiet Man (1952)
Director John Ford's Oscar-winning comedy about an Irish-American boxer (John Wayne) who visits a small Irish village and falls in love with a red-headed spitfire (Maureen O'Hara).
3 Into the West (1992)
Two young brothers head off with a magical white stallion into the west of Ireland, imagining it as the last frontier as in the American western films they love.
4 The Princess Bride (1987)
Ireland's iconic Cliffs of Moher are the "Cliffs of Insanity" in The Princess Bride; the bad guys scale them with the captive princess in tow, followed by the hero in hot pursuit.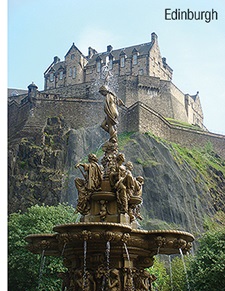 FILMS SET IN SCOTLAND
1 Braveheart (1995)
An epic movie about the medieval hero William Wallace who led the Scots in a rebellion against the English. Gorgeous photography, cast of thousands, Oscar for Best Picture.
2 Local Hero (1983)
A comedy about what happens when an ambitious American businessman visits a quirky village on the Scottish coast to carry out a big deal (he thinks).
3 I Know Where I'm Going (1945)
A comic black-and-white gem about an Englishwoman who en route to meeting up with her wealthy fiancé becomes stranded on a Scottish isle, where she tangles with the local laird.
4 The Prime of Miss Jean Brodie (1969)
The young Maggie Smith plays a schoolmistress in 1930s Edinburgh who casts aside the standard curriculum and teaches her 12-year-old pupils about love, politics, and art.
FILMS SET IN ENGLAND
1 The Queen (2006)
After Princess Diana's death, the unexpected outpouring of public mourning threatens to overturn the monarchy, and Queen Elizabeth II must deal with the situation.
2 Far from the Madding Crowd (1967, 2015)
Two romantic adaptations of Thomas Hardy's 1874 novel about the life and loves of an English "woman farmer." The 1967 version stars Julie Christie, and the 2015 film stars Carey Mulligan.
3 Pride & Prejudice (2005)
Another fine costume drama – the most recent adaptation of Jane Austen's iconic comic novel about the fortunes and misfortunes of Miss Elizabeth Bennet and her four sisters.
4 Gosford Park (2001)
By the creator of Downton Abbey, this star-studded mystery and social satire set in 1932 at a grand country estate is told from the perspectives of both the aristocrats and their servants.