At some point in our childhood, most of us dreamed about what life would be like if we lived in a castle. Or, maybe, we yearned to be that Princess or Prince who captured our imagination in a favorite movie. And then we grew up – and discovered that those childhood dreams may yet be realized, in new and different ways. We may not actually be Cinderella at the palace ball, but everything we would like to know about nobility throughout the ages is available to us – even the possibility to spend an evening, or a night, in their castle homes. In this edition of The Compass we share with you a glimpse of life as a royal.


We're so pleased to introduce you to one of our key global partners, Edoardo Pallavicini, who brings a personal message to the Tauck community – and a look inside his home, Palais Pallavicini. The Pallavicini family's deep European roots date as far back as the 10th century; they acquired Palais Pallavicini, a Baroque legend in the heart of Vienna, in 1842 – it is still family owned today. They've partnered with us for many years, creating a magical evening in their palace for our guests – where palace dreams are brought to life.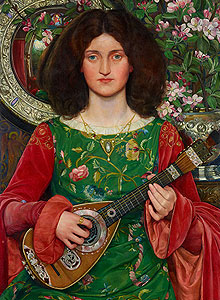 Michael Shaw has worked as a maestro on Musical Magic Along The Blue Danube since its inception in 2010, sharing his expertise and knowledge throughout the river cruise. He received his PhD in Historical Musicology from Columbia University, specializing in the Lieder of Franz Schubert and 19th-century philosophy, and also earned a degree in vocal performance at the San Francisco Conservatory. Michael put together two playlists to introduce you to the "royal" soundtrack of the ages, and he shares his insights and commentary on Renaissance music and medieval compositions.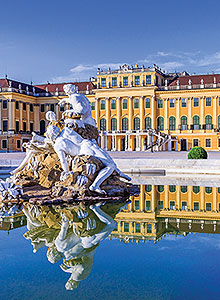 Vienna's history is inextricably intertwined with the epic story of the Austro-Hungarian empire and the reign of the Habsburgs. The city has long been a cultural mecca where intellectuals, artists and royalty inspired some of the world's greatest creations and eternal stories. From architecture to art, desserts to dance, classical music to acclaimed films, we've curated a fascinating selection of interviews, clips, book suggestions and film recommendations that take you inside Vienna.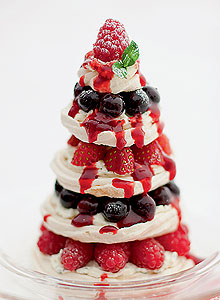 Another of our longtime global partnerships is with Carolyn Robb, Princess Diana's former executive chef, who shares stories (and recipes) with guests in London. She has provided us with the recipe for Eton Mess and notes: "I was one of 150 excited schoolgirls crowding around a television at school trying to get a glimpse of the 'fairy tale princess' at the wedding of TRH Prince Charles and Princess Diana. In my wildest dreams I never imagined that eight years later I would be their personal chef and living in Kensington Palace! I was inspired to cook from a very young age. I attribute my great love of food and adventure to my wonderful mother – a fantastic cook. A diploma in Cordon Bleu cookery has opened many incredible doors to me. However, it is the 'home cooking' that I learned from my mother that has won many hearts along the way! I have worked in Switzerland, California and the Middle East. My travels with the Royal Family took me to many far flung and intriguing locations. I continue to cook and to travel as I work on expanding 'The Royal Touch,' my culinary brand."


One of the world's most acclaimed hotels is India's The Oberoi Amarvilas, Agra, overlooking the incomparable Taj Mahal. Their signature cocktail, served at the Bar, is the refreshing Mumtaz – named for Mumtaz Mahal, the 17th-century Empress wife of Mughal Emperor Shah Jahan who commissioned the building of the Taj Mahal as her memorial, a monument to eternal love; the Mumtaz is yet one more tribute to the person who was his inspiration.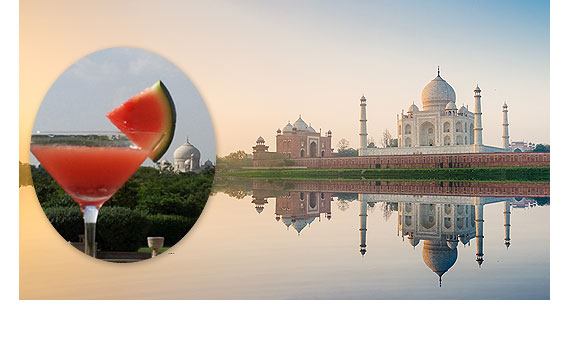 Yield: makes 1 Cocktail
Ingredients
Cubed watermelon (2 oz.)
Pomegranate seeds (¾ oz.)
Basil Leaves (2)
Oranges (2 skinned segments)
Grey Goose vodka (2 fl. oz.)
Lemon or Lime juice (1/2 tsp. or a few drops)
Grenadine syrup (a few drops)
Instructions
Watermelon cubes, orange segments and basil leaves are muddled (ingredients pressed against the glass with a muddler or spoon)
Add Grey Goose vodka, lime or lemon juice and grenadine syrup
Shake with ice and served in a chilled cocktail glass, garnished with a few pomegranate seeds
Enjoy!
Если не нужен кредит в миллион рублей, а нужены просто 10-15 тысяч до зарплаты,
то займ всегда будет выходом.
Достаточно просто перейти по
ссылке
, и оформить любой совершенно займ за 15 минут.
Кредиты оформляются быстро, документов не требуют, а что нужно ещё для получения займа
онлайн за 15 минут, не понимаю.
Срочный займ без залога и поручителей вы можете получить на сайте
credit-n.ru
круглосуточно, в режиме онлайн.