We're all focusing more these days on our well-being, from our comfort to our happiness. Whether it's learning something new, or coming across a story that brings a smile, or awakening a long-ago interest, there are endless possibilities to explore. In this edition of The Compass, we've put together a diverse collection of topics that speak to well-being and mindfulness in many different ways and from many different perspectives around the world.

Exclusively for Tauck, our good friend and global partner Chef Luca Manfé – Italian-born and Texas-based celebrated chef and cookbook author (winner of MasterChef Season 4 on FOX, founder of "Dinner with Luca" personalized catering service, and a
popular host on select Tauck river cruises) – shares his special recipe with us for Frico, a traditional dish of cheese and potatoes. His presentation is fabulous, his advice invaluable, and his instruction easy to follow – a welcomed recipe for tasty comfort food!


The Lobkowicz family is one of Bohemia's (Czech Republic) oldest noble families – and one of our longtime key partners. Throughout the years, William and Sandra Lobkowicz have shared amazing stories with us about their ongoing efforts to reclaim the family's royal legacy. A prince by birth, William has spoken about priceless centuries-old family treasures, lost twice during Nazi and communist rule and regained decades later, castles repossessed and reimagined, art masterpieces returned and rehung, music scored by Mozart and Beethoven for whom his family served as patrons, and the living museums they created to showcase Czech history and culture, including Lobkowicz Palace at Prague Castle, which our guests visit during an exclusive evening in Prague. They share with us a special gift – a series of yoga classes, each filmed in a different room of their Renaissance-period Nelahozeves Castle, north of Prague. The concept combines yoga and art, offering a unique virtual experience that is both educational and relaxing – all from the comfort of home. Each session presents a different space filled with extraordinary works of art and introduces you to hidden treasures within these settings while you unwind through a series of mindful breathing and gentle yoga movements. We've also included a variety of Wellness and Mindfulness content curated from around the world – enjoy!


We are so pleased to share a special presentation on the Bordeaux region of France – and, of course, its acclaimed wines. Mary Dardenne is a wine tourism specialist, born in San Antonio, Texas but has lived and worked in Bordeaux for over 25 years. She is also the Medoc Wine Council's US representative for the wine trade, training sommeliers, wine merchants and distributors in Medoc wines, and is a member of the French Conseil Superieur d'Oenotourisme (wine tourism council), a national think tank of all things wine tourism. Mary runs the highly successful Decanter Tours wine tour company and welcomes Tauck guests as they explore Bordeaux.
Exclusively for Tauck, please enjoy a special presentation on the Bordeaux wine region and an opportunity to improve your knowledge of its fabulous wines.


There is nothing more soothing, or dream inspiring, than the strains of a waltz. The Blue Danube (or On the Beautiful Blue Danube) by "Waltz King" Johann Strauss is the ultimate music therapy – so sit back, and relax, as it accompanies a cruise along the river unlike any other. And for your next Zoom get together, we've provided a customized version you can use as your backdrop!


We were touched by wildlife filmmaker Martyn Colbeck's from-the-heart reflections in this vignette, exclusively produced for Tauck as part of our Earth Journeys partnership. Martin and his team followed one family of elephants in Amboseli National Park in Kenya over a period of 15 years, chronicling the life of one particular elephant, Echo; he shares his personal account of the impact Echo had on his life, and what Echo meant to him.


Opened in 1887, Raffles Singapore remains one of the world's most prestigious 19th-century hotels – and the Singapore Sling, widely regarded as the national drink, was first created in 1915 by Raffles bartender Ngiam Tong Boon. The story behind the cocktail, as told by the hotel, begins in colonial Singapore following the turn of the 20th century, where the Long Bar was the place where the community gathered. Unfortunately for the ladies, etiquette dictated that they could not consume alcohol in public. So, for the sake of modesty, teas and fruit juices were their beverages of choice. Ever insightful, Ngiam saw an opportunity and decided to create a cocktail that looked like a fruit juice but was actually infused with gin and other liqueurs. He cleverly masked it in pink to give it a feminine flair, leading people to think it was a socially acceptable drink for women, thus making it an instant hit. Cheers!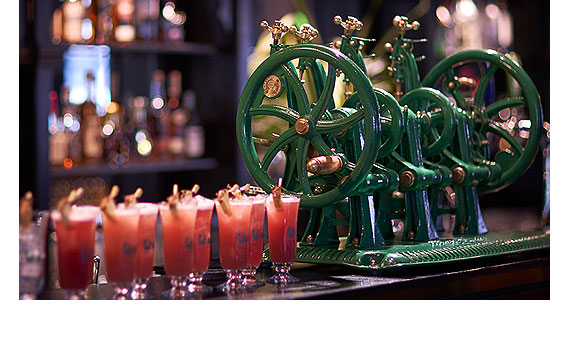 Raffles Singapore Sling Recipe
2 tbsp. Widges Dry Gin
2 tsp. DOM Bénédictine
2 tsp. Pierre Ferrand Dry Curaçao
2 tsp. Luxardo Cherry Sangue Morlacco
2 tsp. Crawley's Singapore Sling Grenadine
A dash of Scrappy's Spice Plantation Bitters
1.5 tbsp. Fresh Lime Juice
¼ cup Fresh Pineapple Juice
Steps:
1. Chill a 12 oz glass with ice.
2. Combine all ingredients into a shaker with lots of ice.
3. Cap your shaker and give it a good vigorous shake for about 12 seconds.
4. Strain the cocktail into your chilled glass.
5. Garnish with a skewer of cherry and pineapple wedge.