Silver Linings
As 2020 concludes, as difficult as it has been, we are thankful for the many silver linings that surround us. Times like these cause us to think differently, and we encouraged the entire team to go about our work in even more creative ways. New ideas surfaced and our team pursued them – and the best part – many of these innovations will endure on the other side.
A major silver lining is the manner in which we've stayed connected with our team, our guests, travel advisors and supplier partners. Strong and respectful relationships have been central to our company for over nine decades and have been particularly meaningful this year. Given our challenges this year, we found new ways to sustain, and even strengthen, key relationships.
Internally our work life has been very different. Our office closed in March and we managed our far-flung operations virtually, with a special thanks to our extraordinary IT team. I had never heard of "Zoom" before, yet it's been central to our ability to run the company this year. Our executive team has met almost every single morning since March for a daily stand-up meeting on Zoom. We sustained our weekly Town Hall meetings to keep our entire team connected. We still held our annual health fair (in our Wilton Woods parking lot!) where everyone could receive a flu shot. Even our treasured "Joy Celebrations," when we toast special moments in our colleagues' lives, were held virtually, as was our friendly but competitive Halloween costume parade.
Our marketing team created original content to virtually stay close to you during this time. We have learned and grown together – just like we do when we travel. More than 1 million connections have occurred via weekly Compass emails, Porchlight columns, Colin Treadwell essays and the new "Taucker" blog on our website. Many sessions have been held with TDs and past guests in virtual Zoom gatherings. Weekly lectures by TDs and destination partners brought Tauck experiences into your homes by sharing their knowledge and passion on many different topics. It's not quite the same as traveling together, but I'm so glad we stayed connected.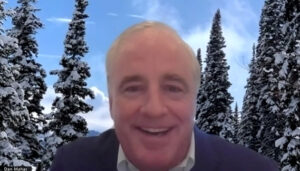 2020 was our 95th year and not the year any of us expected. We have perspective from prior storms like World War II, 9/11 or the financial crisis and we remain confident of our collective future. And further, we have always set a standard for ourselves that it's not just about what we do – but "how" we do what we do. And upon reflection, our Executive Team and Tauck family remain very proud of how our team went about their business this year, all the while managing changing circumstances in their homes with school and work disruptions and caring for loved ones. A silver lining we are all proud of. I close with a sincere thank you to our team and for all of our special relationships around this precious world of ours.
Most sincerely,
Dan Mahar
CEO
---
| | | | | |
| --- | --- | --- | --- | --- |
| | | | | |
| While not the same as traveling with Tauck, our weekly e-newsletter The Compass kept us entertained and connected; find our guests' favorites here! | | Eager to share their expertise with our guests, our Tauck Directors and local experts hosted special live webinars on insideTauck, including the Top Five you'll see here. | | What does working from home at a travel company look like? Take a real-life look here! |
| | | | | |
| --- | --- | --- | --- | --- |
| | | | | |
| Our Tauck Directors and guests share a unique camaraderie with one another and enjoy staying in touch after the trip ends. Here's how we reconnected during COVID. | | | | |
А в чём выигрыш по сумме, при оформлении онлайн займа
без отказа на ту же карточку? Ничего, кроме высокого процента.
Онлайн займы до 100 000 рублей можно получить
на сайте
в течение 15 минут с момента подачи заявки.