It goes without saying that this year has been like no other. But amidst all the uncertainties and ramifications of the last nine months, looking at the world with a grateful perspective and recognizing the goodness in our lives, greatly enhances our sense of wellbeing by bringing joy and happiness back into our lives. We have found special joy in the emails and letters we have received from our guests, who enjoy staying in touch with us as much as we do with them. Our guests' messages continue to be a bright light for us and we are honored to share a few of them here.
Keys to the world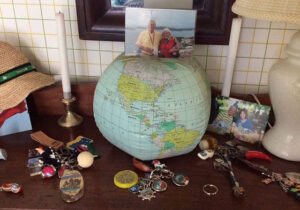 Jim and Twig Hickam are seasoned alumni of our annual Connections brochures and our trips, sending in stories about the new groups of friends they have introduced to Tauck and the trips they have taken together. This year without travel was unusual for them. They had planned to go to Greece in June and Portugal on our Douro cruise in September.  They were already planning 2021 trips last April and had already booked our trip to New Orleans and Louisiana for April 2021 – and says Twig, their list "keeps growing and growing." In lieu of actual on-tour photos, Twig sent us the photo on the right.
"I started collecting key chains from each stop on a trip a few years ago which I carry on my purse as we go along! Fun for all to enjoy. We have created a Tauck tableaux on our hall credenza . We are enjoying our memories and looking forward to adding lots more key chains!" – Twig Hickam
Remember what we were doing a year ago?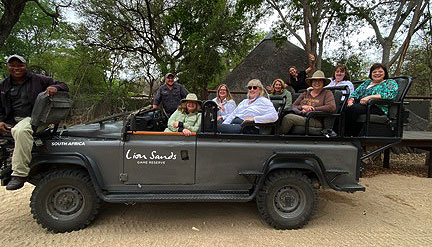 It's been a year since Diane Shober and her friends joined us on South Africa: An Elegant Adventure but time has not diminished their excitement about their trip. In fact, they have been sharing photos and texts with one another during the pandemic, with the caption, "Remember what we were doing a year ago?"
"I still cannot stop thinking about what an unbelievable experience it was to travel with you on our elegant adventure in South Africa. There were 7 of us and every one of us came away changed women with a new definition of spectacular!!! It will stay with us forever! In fact, writing this email has me homesick for Victoria Falls and those delicious gin and tonics infused with botanicals from elephant dung. Seriously!" – Diane Shober
What makes a safari elegant?
"With Tauck, we have freshly ground coffee on our safaris." – Brian & Kathryn Kennedy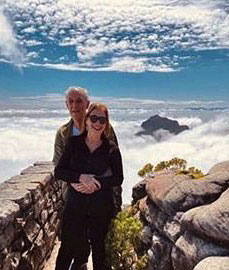 Lost in the clouds
After they arrived home from their tour of South Africa in January, Glenn and Meryl Rogers sent us a photo they took in Cape Town with a note saying that they loved their tour. We recently reached out to them and they shared the following.
"Our trip brings back memories of a less complicated time, wish it returns soon. Sitting on Table Mountain, literally lost in the clouds, was something that we will never forget." – Glenn & Meryl Rogers
How to pretend you are traveling
"My wife and I and another couple were supposed to be on Day 5 of our Spain and Portugal tour today. Obviously we couldn't go, but I read the daily itinerary each day and send a text message to the other couple of what we "did" that day. We may not be there, but it's fun to read about the excursions in your excellent guide and imagine we're there. We often exchange comments about what we did that day and the hotel in which we're staying (they're all great)." – The Craig Family
A trip back in time
"Since we are not taking a trip this year because of COVID-19, and while we are self-isolating, we decided to take a trip through our Tauck Israel and Jordan trip we took a couple of years ago. We went through our photo album and talked about all the wonderful cities and stops that we made on this journey. It was fun and we talked about each photo and there were a lot! Thanks for making this a special day for my husband and me." – Bonnie Duell

Staying connected
"Thank you for keeping the travel lifeline connected between Tauck and us fellow travelers during this trying time.  Your resiliency through it all has brought us hope that we will once again be traveling with you. A big thank you for your continued communications and programs that awaken our travel bug.  We're looking forward to when your ships will be sailing along the waterways, and your buses are rolling along the roadways once again." – Martha & Bob Kosyk