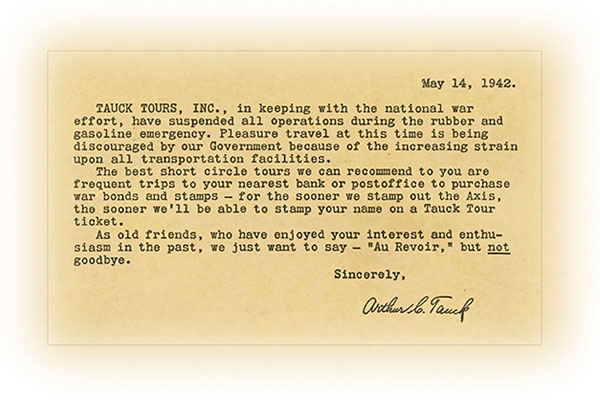 Dear Tauck Family of Friends,
An anniversary milestone greets us this spring. 80 years ago this May, Arthur Tauck Sr. wrote the above message, one that I shared with you in the Spring of 2020. One belief we embrace in our family-owned and led company is that we always must "keep moving forward." It has inspired and motivated our family and team for generations. We possess a restless desire and "motor" to continually edge forward, leaning into both our challenges and our opportunities. One central takeaway I heard from so many was admiration for Arthur's positive spirit. He said "Au Revoir," but not "goodbye." He knew brighter days would follow and he did indeed resume operations after the war ended. We knew, as well, that brighter days would follow, and we resumed operations in more places than you might have imagined in 2021. It can be hard during a crisis to know exactly where you "are," but as I pause and look backward and forward, we can see solid signs of progress. All of us at Tauck know Arthur Sr. would be smiling down on us all, cheering us on to keep it moving forward.
Just over one year ago we operated our first program after a nine month pause, Winter in Yellowstone. Our guest satisfaction along with our own team's confidence that "we can do this" encouraged us to rapidly open up new destinations as borders and policies permitted. By the year's end, we had traveled with tens of thousands of guests on nearly 900 departures to 38 countries across five continents. More than 200 Tauck Directors were back on the road for Tauck last year. Our river fleet sailed across Europe, including on the Danube, Rhine, Seine, Rhône and Douro rivers. We operated small ships in Iceland, Greece, the Mediterranean, the Dalmatian Coast and the Galápagos. We read often in the press about the challenge companies face with employee retention, and we are thankful our office team, our TDs, as well as our captains, chefs and key personnel across our fleets have remained committed to our mission and eager to continue making a positive difference in our world.
As we reflect on this past year, I'd like to share some thanks. To our loyal guests who joined us on journeys last year, we appreciate your trust and positive spirit. We know it wasn't always easy given changing policies and supplier staffing shortages in certain locales, among other factors. We continue to do our very best to deliver the experience you expect and thank you for your continued patience and understanding as the world is not quite back to normal just yet. Our philosophical principle that "so much of the joy of travel is in the unexpected" has never been more true.
We are thankful to multiple generations of the Tauck family who have shared their wisdom and experience to help guide this company through these past two years. Their optimism about the future, genuine care for our entire team and belief that we can make a positive difference in our world has been unwavering. We approach our 100th in 2025 with much optimism about our second century.
Additionally, we are most grateful for the hundreds of thousands of people who joined one of our insideTauck live online lectures, virtual walking tours, consumer shows and other live events. All of these touches underscored for me that we are very much in the business of connecting people. I have come to appreciate this idea deeply because, for a time, the power of travel to enhance these connections was taken away from us. Since we started traveling more broadly last summer, we all do so with a renewed sense of gratitude.
As Tauck nears 100, we know central to our longevity has been your trust. The importance of this trust was underscored when I read the following email from our guest, Doreen Bieryla: "You cannot be afraid to travel. Knowing that you guys are right there to support and guide, that provides a level of reassurance. You are not left on your own to figure it out, Tauck is there supporting you every step of the way."
Doreen was not alone in her comfort traveling with Tauck. Our guests felt safe and that is so important. They also were touched by the genuine feeling of welcome they received around the globe. We have all been through something simultaneously together, and this doesn't happen often. Even though we haven't been together much physically, in some ways we are closer together because of this shared experience. Our guests also enjoyed the smaller crowds which we know can add immeasurably to the experience. The overall feedback from guests and travel advisors was excellent and guest satisfaction scores were on par, or higher, than 2019 levels. We are grateful our 2021 restart was an unqualified success!
2022 demand is extremely strong and we will be operating our full contingent of land tours, family adventures, river and small ship cruises. Our guests are clearly eager to travel. In our recent guest survey, 95% of over 5,000 participants have received their booster shot and an additional 3% told us that they would do so should it be required by some countries for border entry. In coordination with our global partners, we will continue to keep all our travel policies and destination requirements updated here and will notify you directly should anything change with your upcoming travel plans.
Like you, we understand the impact inflation is having. Costs will most likely increase even more in the travel sector as demand further recovers in 2022 and 2023. We have taken many steps with our travel partners to mitigate these added costs, wherever possible. The resulting price certainty will provide you peace of mind through 2023.
There are a number of special events as well to make 2022 even more "special." Floriade – the once in a decade horticulture expo in the Netherlands – is a GO! It will run from mid-April through early October and is available on four of our river cruises. The Passion Play, or Passionsspiele, the 700-year tradition that was postponed in 2020, will come alive again in the quintessential Bavarian town of Oberammergau. We have limited availability on both land and river programs.
The most desired 2022 trips and dates are selling quickly so, where possible, we are adding departure dates to key regions such as Switzerland, Italy, Canada and the US National Parks. To learn more, visit our Featured Tours and Cruises. Also, I encourage you to check out our Travel Forums. They are a great way to connect with the Tauck community of travelers to share insights and experiences.
I hope our paths cross this year somewhere out on a road, river or ocean. Kiki and I have five children, and we realized this winter that we had taken our older children to Italy several times but our younger two have not been there. So we have made plans to experience the energy, food and history of Rome, Florence and Venice with them. Our most popular Bridges program, Italia Bella, awaits, and we will travel there in April. And time is fleeting – one of those "last two" will be graduating this year. We need to make the most of these moments, now.
Thank you for your continued faith and trust in us. We look forward to traveling together soon, when you are ready.
Wishing you joyful travels in 2022,
Daniel W. Mahar, CEO
И мне бы очень не хотелось переплачивать за микрозайм на карту именно сейчас, так как очень жаль денег.
Сказать, что займы без отказа – это 100% правда, думаю, нельзя. Ну, где-то тебе его дадут, а где-то заявка на кредит просто не пройдёт.
Не думаю, что получится оформить займ тысяч в десять очень выгодно, уж очень велик процент по микрозаймам.
Основная рекомендация – получайте займ до 10 000 рублей только на своё банковскую карту и онлайн, это выгодно.