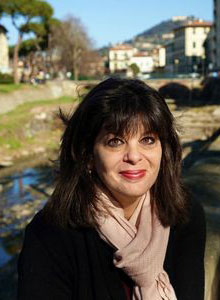 Exclusively for Tauck, we invite you to join Elaine Ruffolo, longtime Tauck Partner and art historian, for a special presentation that takes you inside the art and culture of Florence – home to some of the Italy's, and the world's, greatest art treasures and architectural masterpieces. She'll explore why Florence is universally recognized as the birthplace of the Renaissance and provide an insider's view of what Florence is like today.
Elaine is one of our key local experts in Italy; she has been teaching art history in Florence since 1990 and has been a Tauck partner for over 20 years. Her special interests include the history of patronage and the economy of Italian Renaissance city-states; she firmly supports the idea that the best way to fully understand a work of art is by exploring the context in which it was made. We're so pleased to have her return for another insideTauck presentation – her in-depth insights into the Italian painter Caravaggio, was our first insideTauck presentation.
Онлайн займы до 100 000 рублей можно получить
на сайте
в течение 15 минут с момента подачи заявки.
Срочные займы на карту без залога и поручителей
по ссылке
доступны для круглосуточно для всех категорий населения.
И мне бы очень не хотелось переплачивать за микрозайм на карту именно сейчас, так как очень жаль денег.