We'd love to hear your travel story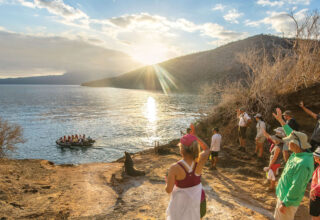 They say a picture is worth a thousand words – and we would love to hear from you about your Tauck journey by sharing your photos and stories with fellow travelers.
Whether you have a story about how your Tauck journey reconnected friends and family – or how someone you met made the destination you were in memorable – a travel experience in the world of nature that brought inspiration – a moment of joy or surprise that made the difference while on tour – or maybe that one place you simply couldn't wait to visit – or revisit – after the world's travel hiatus, we'd love to hear what made your journey unforgettable.
See below for complete information about uploading your photos and sharing your story – and take a look at a few of the images we've received from guests that tell their own unique stories from this past year!

Photo Guidelines
We are looking for you to submit at least one (1) high-quality photo that…
Tells stories… photos that tell the stories of your journey – those unique, compelling travel experiences that stand apart, that tell not only the story of the places you visited, but how you experienced them
Reflects the connections you made… photos that capture those unforgettable moments when you felt a personal connection with the cultural, or natural, essence of the places you explored
Brings a destination to life… photos that tell the story of your travel experiences while bringing a destination's natural landscapes, iconic landmarks, historic sights, and more to life
Tell Your Story Below
Terms and conditions may apply.