The world of the living contains enough marvels and mysteries as it is—marvels and mysteries acting upon our emotions and intelligence in ways so inexplicable that it would almost justify the conception of life as an enchanted state.
– Joseph Conrad
I awake this cold morning in the Green Mountains of Vermont to thoughts of India. Why is a sense of India hovering around me, as if I am stepping hazily out of a forgotten dream? Perhaps it's something still reverberating on the mountain surfaces from when Rudyard Kipling wrote "The Jungle Books" in a house in Dummerston, Vermont, a few miles away.
It's strange that Kipling recreated India while living in a house in Vermont. But India is not just a place, it is a state of being, and I would argue, a state of enchantment.
The Vastness
India is a single word, but its reference is to a multiplicity.
Before modern countries, India was a subcontinent, populated by more than 500 kingdoms. Today it's the seventh largest country in the world, but before it was carved up with modern boundaries it stretched across what are now Pakistan, which was partitioned in 1947, and Afghanistan, which was part of India until 1739.
It is vast and teeming. Its history stretches thousands of years of innumerable tribes and cultures meeting, interacting, influencing each other, blending, producing the rich, moving tapestry of Indian life. Today's India, though it is a world leader in cyber-technology, still embodies that past. India is inconceivably complex, yet somehow there is a single spirit that unites it all under one banner.
Trying to get a full picture of such vastness is an impossibility, so we all carry our own unique versions of India inside. As in the Indian parable of the blind men and the elephant, we each see a fragment of the whole.
A Waking Giant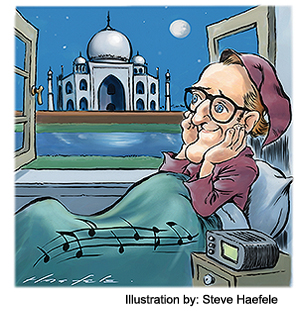 With 1.3 billion people, India is the second most populous country in the world, after China. It is one third the size of the United States, with roughly 12 times the population density. Yet the country has vast open landscapes.
The land mass stretches from the Himalayas in the north, to an ever more pointed peninsula in the south, where the Bay of Bengal and the Arabian Sea meet the Indian Ocean. Its known history goes back 5,000 years, and its prehistoric period must have been quite a pageantry, if we could only travel back in time to see it. Those eons of restlessly wandering nomadic tribes laid the foundations of what is now a nation of nearly infinite cultural diversity.
Almost Overwhelming
To a westerner, an encounter with India can be a blinding explosion of color, noise, confusion and contrast. Until you adjust your senses, it can be overwhelming. So much is happening at once. Streets with cars, scooters, trucks and camel-driven wagons traveling in a great horde, observing no lanes in the dusty road, yet somehow not crashing into each other. And the occasional cow, lying in the middle of the roadway, casually chewing her cud, while traffic moves carefully around.
The colors of the fabrics adorning the women are so bright they would seem possible only in another dimension. The spectacle of India is unlike any other, with its many palaces, temples, tombs and forts; the rich herbal aromas in the markets, the lively, sexy sculpture and mosaic art; crafts still done in ancient ways; and the great variety of ethnic music.
India is set to surpass China in population by 2022. But unlike China, India has a democratic government, and that is a significant difference. Alexis de Tocqueville said, "Democracy does not give the people the most skillful government, but it produces what the ablest governments are frequently unable to create; namely, an all-pervading and restless activity, a superabundant force, and an energy which is inseparable from it, and which may, however unfavorable circumstances may be, produce wonders. These are the true advantages of democracy…"
That is the phenomenon of modern India. Today's India is touted as an economic miracle with the fastest growing large economy in the world and a rapidly expanding middle class. The fact that English is one of the main languages of the country adds to the ease with which Westerners can enjoy it. And with India's elephants, tigers, Asiatic lions, leopards and deer, its wildlife is among the most spectacular in the world.
Dreams of India
I don't remember a time when I did not know of India. Images of its sultans, magic carpets, ornate palaces and bejeweled women seem to have been in my imagination from birth, as if passed down in human DNA.
In the '60s, Indian culture poured into America and the open arms of countercultural youth, who swallowed it up eagerly: yoga, Buddhism, incense, spices, colorful tapestries – everything up to, though perhaps not including magic carpets.
Pop culture got a huge infusion of India when George Harrison introduced the sitar to rock and roll, and the Beatles went off to India to learn Transcendental Meditation with Maharishi Mahesh Yoga. So many things trace back to India. Who would want to go through an entire lifetime without seeing it?
Journey to India
India's magnetism is strong. It pulls a great deal into its swirling vortex, and I was one of the things that were drawn in. I signed on with a tour operator to try to get as balanced a picture of India's vastness as might be possible during the time of a vacation.
I was left with a dazzling kaleidoscope of images and memories.
Udaipur, sometimes compared to Venice because of its location at the vortex of seven lakes, is considered one of the most romantic Indian cities. We stayed in the Udaivilas, one of a series of hotels designed to emulate a maharajah's palace.
The opulence, grand decor and acutely attentive service of the hotel made me feel like Indian royalty of ages past. But more striking even than the ornate architecture was the giddy procession of life in the streets: old bearded men chanting and singing; women dressed in brightly colored saris while working construction; teeming marketplaces, pigs, goats, small dogs, people stooping on their haunches, dusty bare feet, turbans, tanned rugged faces, white teeth.
Jaipur was the Pink City, the home of the Amber Fort. Mumbai, a port city of 48 million, is where global high-tech culture creates a modern overlay. Delhi was the home of British colonial government, a city rich in historical landmarks.
The Night of the Taj
Out of the whole cornucopia of impressions, the one that stayed with me the most was the night I spent in Agra at the Amarvilas in a room with a view of the Taj Mahal.
The Taj Mahal is so much larger than life it is practically impossible to assimilate when you encounter it. You've seen photographs of the gigantic, eerie presence, and when you first approach it, it looks like the postcard view. But it is so much more. Colossal as it is, it is a building of unsurpassed grace and elegance. The fact that it is a monument to love gives its architecture a special glow.
No matter how long you stay at the Taj Mahal, it never feels like enough to have taken it all in. Even staying on the grounds for an hour or more seems sadly insufficient.
But staying at the Amarvilas in Agra, I lived with the Taj for a day and night. I first saw it through a window in the lobby. It was also visible from my room and my balcony. It was a delicious pleasure to sit at a cast iron table on my balcony sipping Darjeeling tea overlooking the bright green hotel grounds, with the Taj Mahal looming over the horizon behind them. It felt like the perfect place to be in the world. What could possibly surpass it?
When I went to my room at the end of the day, the Taj was visible through the window, like a gorgeous painting. I didn't want to go to sleep. How could I close my eyes with the Taj right there?
A music channel played dreamy Indo-European fusion music with sitar, tabla, santoor and bamboo flute. It would have been entrancing anywhere, but there it was overpowering, like a magic carpet carrying me to unknown regions. I listened to the hypnotic music for hours and finally drifted into a dream-filled sleep. It created the atmosphere in which I spent my night with the Taj Mahal. It is a night I shall never forget.
The Taj, with its colossal, yet elegant beauty, has such an otherworldly presence that being anywhere in sight of it is to be in an enchanted state.
That dream is waiting for me, whenever I wish to return to it. I guess that's where I had been when I woke up in Vermont this morning.
Back to winter, I wish you a joyous holiday season.
Your Humble Reporter,
A. Colin Treadwell