Ken Burns' new film series Country Music aired on PBS in September, a sweeping 16-hour film presentation in eight segments, written by the titanic writer Dayton Duncan, who has been Burns' partner on many of his most popular films, including The Civil War, Jazz, Mark Twain, Baseball and The National Parks: America's Best Idea.
Like all Ken Burns films Country Music will set off waves of influence that will affect the thoughts and behaviors of many Americans. The Burns and Duncan series on the National Parks helped to stimulate a new wave of visitation to the parks corresponding to the 100-year anniversary of the establishment of the National Parks Service. The Jazz series stimulated the sales of many jazz recordings, including a series put out by Ken Burns to go with the film. The Civil War series stimulated interest in the Civil War, including visits to battlefields and other sites associated with the Civil War.
On the first night of Country Music it already influenced my listening habits. And it will enrich my travel experiences from now on. Ken Burns films have a close connection to travel. The films are themselves trips back and forth and up and down across America.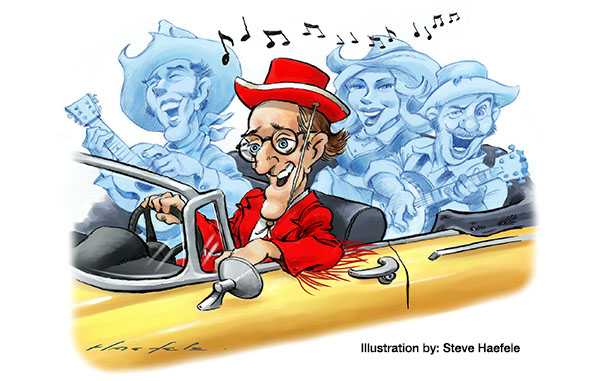 Burns and Duncan have traveled extensively throughout America as they have shot footage and done research for their films. They can claim to be among America's most dedicated and astute observers. Their travel experiences are built into their films and their films are in large part products of their travels. For me they inspire travel to explore what they draw attention to in their films. 
America's Multicultural Landscape
Country Music could be seen as a sequel to Burns' 2001 film Jazz. It even features interviews with Wynton Marsalis, who was the central authoritative voice in Jazz. In the new film Marsalis made some of the same observations about country music that he previously made about jazz: that it's a uniquely American product of multiculturalism that grew up organically from the needs of working Americans and presents a vivid portrait of American life. Marsalis is one of many musical authorities interviewed in the film through whom Duncan and Burns make their point that country music, like nearly all products of American culture, is multicultural.
Through many interviews with country artists, Burns and Duncan show that at the edges there are no strict boundaries between jazz and country music. They are just different regions in the vast landscape of American music, which was the product of a variety of immigrants coming to America, encountering other transplanted cultures and each making their own cultural contributions to the roiling melting pot of American culture. All the styles of American music, including blues, rock and roll and rhythm and blues, blend together and cross-pollinate in the richly multicultural landscape of American music.
Ketch Secor, one of the musicians interviewed, said, "Country music is what American folk music has come to be called when it followed the path of the fiddle and the banjo. All of American music comes from the same place. It's just where it ends up, and country music is one of the destinations."
Within the genre of country music there is tremendous variety, from the hill music of the Appalachians to the Western Swing music of Texas, to the hard rocking twang of Bakersfield. The separate categories of music were largely conveniences for marketing purposes. In the landscape they all blend and flow into each other.  
Burns focuses on the similarities rather than the differences between the styles of music because his interest is not as a musicologist but as an observer of America. Burns has earned the title of "America's Storyteller" through his 30 documentary films on a wide variety of subjects. But as diverse as the subjects are the one theme that ties them all together is America itself. Whether its country music, jazz, baseball, the Civil War, The Roosevelts, Vietnam, Prohibition, etc., as fascinating as each of the subjects are in themselves, they are secondary to Burns. What he is trying to get at, from every angle he can, is America itself.
I had the good fortune to interview Ken Burns when he participated in the Tauck-Ken Burns Jazz event in New Orleans a few years back. He told me his films are all based on the question "Who are we? Who are these strange and complicated people that like to call themselves Americans?" And, he said, "on questions about what freedom means both collectively and individually."
In Burns' ongoing quest to try to understand what makes America America, country music as a subject was almost irresistible.
"Country music is a hugely important part of us and revealing of us," he told me. "And that's what you look for. It's not so much that you're doing it on a particular subject, but how does that subject resonate with the larger picture, the larger question, 'Who are we?' What kind of mirror does it represent? What kind of lens do you look through with it and see? What kind of prism is it that refracts a certain kind of light. And that's why you pick a subject."
The Burns Effect
Even before Country Music had finished airing in its debut performance, Billboard magazine reported huge surges in sales of many of the records and the artists featured in the film. Patsy Cline, Willie Nelson, Vince Gill, Johnny Cash and Merle Haggard suddenly had abrupt spikes in sales and streams and downloads of their recordings. Billboard was even talking about how the film would redefine the genre.
Already on the first night I started listening to music I heard in the film, some of which I already knew and liked, some that was new to me and some that became interesting to me when I learned about the colorful backgrounds of the people who created the music, as well as the communities that listened to it and made it possible for the musicians to find livelihoods through its creation.
But beyond my listening habits, this movie will have a big effect on my travels, because for me, as with Burns and Duncan, the film is partly about country music, but ultimately, it is about America. It has refreshed my love affair with America and has given me more things to explore in my travels.
The Soundtrack of Travel
Music has always been a central element in my enjoyment of travel. It's one of the elements of culture I notice wherever I travel and it's a big part of my understanding of each place I visit.
American music has always been a vital part of the landscape and seems to be tied in closely with the Great American Road Trip, the journey of discovery of America. I have spent countless hours driving across the highways of America and in those journeys I've probably absorbed as much from the radio landscape as from the scenery.
This film will enrich my future explorations of America and will stimulate me to new travels I may not have thought previously to undertake. It inspires me to go ahead with a journey that I have envisioned for a long time, an American music journey, visiting many of the places that are most notable for the music they produced. It could be the journey of a lifetime, but I would like for it to start soon.
Every great city has its own musical personality, as with other kinds of culture and activity. The richer the culture, the more interesting the musical tapestry. Los Angeles, Chicago, New Orleans, New York, Nashville, Memphis, St. Louis, Kansas City, Bakersfield, San Francisco, Boston. All these cities have their own musical flavors, and a person who is interested in music can seek out, absorb and enjoy the local music. It is often surprising.
So on that note, I will bid you farewell, and wish you happy explorations, whether they be of geography or music.
Your humble reporter,
A. Colin Treadwell